The 2019 and 2020 recipients of the Burnum Distinguished Faculty Award will be honored and provide lectures during a special ceremony Feb. 21.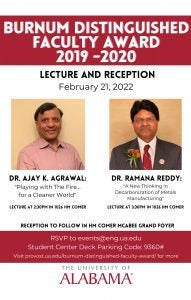 Drs. Ajay Agrawal and Ramana Reddy will provide lectures during a ceremony set for 2:30 p.m., in 1026 H.M. Comer, and be presented their awards during a reception following the presentations in the foyer of H.M. Comer. The presentations and reception are open to the public, but attendees should RSVP to events@eng.ua.edu.
Dr. Ajay Agrawal, professor and Robert F. Barfield Endowed Chair in Mechanical Engineering, was the 2019 recipient of the Burnum Distinguished Faculty Award. His teaching and research focus on energy efficiency and utilization. Agrawal has conducted fundamental and applied research on combustion and fluid flows for NASA, U.S. Department of Energy and U.S. Department of Defense, among others.
Agrawal has published more than 200 papers in technical journals and conferences, and he is a fellow of the American Society of Mechanical Engineers. He is also a member of the National Academy of Inventors Hall of Fame and an associate fellow of the American Institute of Aeronautics and Astronautics.
Agrawal's Burnum lecture is titled, "Playing with The Fire… for a Cleaner World."
Dr. Ramana Reddy, the ACIPCO Endowed Professor in the department of metallurgical and materials engineering, was the 2020 recipient of the Burnum Distinguished Faculty Award. He has conducted projects involving thermodynamics and kinetics of metallurgical reactions, electrochemical processing of materials, ionic liquids, fuel cells and plasma processing of materials, among others. Reddy's research has received funding from the National Science Foundation, U.S. Department of Energy, U.S. Department of Defense and industries.
Reddy has published more than 425 research papers, edited or co-edited 25 books, and published an undergraduate student textbook in thermodynamics. He also has delivered more than 301 research presentations (82 invited, 23 plenary and keynote) in 26 nations. Reddy is also the recipient of five U.S. patents. Reddy's accolades include a symposium named in his honor, and he is an elected fellow of two materials societies, among several other distinguished honors and awards.
Reddy's presentation is titled, "A New Thinking in Decarbonization of Metals Manufacturing."
Awarded annually to recognize and promote excellence in research, scholarship and teaching, the Burnum Award recognizes distinguished careers at UA. The Burnum Award Committee, comprised of former winners, screens nominees and forwards two nominees to the president, who selects the winner.
Contact
Bryant Welbourne, UA Strategic Communications, bryant.welbourne@ua.edu
The University of Alabama, part of The University of Alabama System, is the state's flagship university. UA shapes a better world through its teaching, research and service. With a global reputation for excellence, UA provides an inclusive, forward-thinking environment and nearly 200 degree programs on a beautiful, student-centered campus. A leader in cutting-edge research, UA advances discovery, creative inquiry and knowledge through more than 30 research centers. As the state's largest higher education institution, UA drives economic growth in Alabama and beyond.