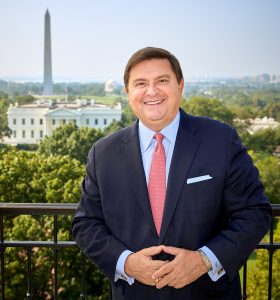 TUSCALOOSA, Ala. — Stewart McLaurin, president of the White House Historical Association and University of Alabama alumnus, will provide a talk about the history of the association and famous residence March 1 on the UA campus.
McLaurin's talk titled "The White House Historical Association and Five Chapters of White House History" will take place from noon to 1:15 p.m. at the Bryant Conference Center. The event, presented by the UA Osher Lifelong Learning Institute, is free and open to the public.
"We are honored to welcome Mr. McLaurin to the Osher Lifelong Learning Institute at The University of Alabama as a guest presenter," said Ashley Chambers, director of the UA Osher Lifelong Learning Institute. "Those attending will enjoy learning more about Stewart's years of service at the White House Historical Association and knowledge of the history of the White House."
While the White House is one of the most recognized landmarks in the nation, its doors remained closed to the public for many years. Former first lady Jacqueline Kennedy was the first to offer the public a tour of the residence.
In 1961, Kennedy founded the White House Historical Association to help collect and preserve artifacts. The private nonprofit educational organization's mission is to enhance the understanding and appreciation of the executive mansion.
McLaurin, who graduated from UA in 1981, has served as president of the White House Historical Association for nine years. During his tenure, McLaurin has expanded the association's cultural and educational programming through award-winning books, popular video series, and virtual and in-person events. Embracing cutting-edge and creative ways to convey rich content to expanding audiences, he has worked to ensure that White House history will be preserved for future generations.
"Along with his recent book release 'James Hoban: Designer and Builder of the White House,' we expect Stewart to share more about the mission of the White House Historical Association and his connections back to Tuscaloosa and the University," said Chambers.
For more information including registration instructions, visit the UA calendar of events.
Contact
Bryant Welbourne, UA Strategic Communications, bryant.welbourne@ua.edu, 205-348-8325
The University of Alabama, part of The University of Alabama System, is the state's flagship university. UA shapes a better world through its teaching, research and service. With a global reputation for excellence, UA provides an inclusive, forward-thinking environment and nearly 200 degree programs on a beautiful, student-centered campus. A leader in cutting-edge research, UA advances discovery, creative inquiry and knowledge through more than 30 research centers. As the state's largest higher education institution, UA drives economic growth in Alabama and beyond.