Cheering on the Tide on a Saturday in Bryant-Denny Stadium will be easier if you know this information before heading to the game.
Tickets, Transfers and Stadium Entry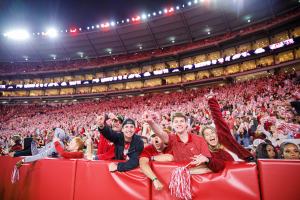 Students should access their tickets through MyTickets, which can be found on myBama. Tickets are placed on the student's ACT Card at 1 p.m. on Sunday prior to each home game. Students should check their ticket balance through MyTickets and confirm their gate number by Wednesday at 5 p.m. prior to the game. Students will not see a ticket balance listed on their ACT Card in Apple Wallet or Google Pay.
Students will use their ACT Card on their mobile devices to enter Bryant-Denny Stadium. No additional app is needed for student entry into the student section.
For entry, students will tap their ACT Card/mobile device on the readers at the student gates. There is no need to open MyTickets, Apple Wallet or Google Pay. Students with upper bowl tickets must enter gate 39, while students in the lower bowl should enter gate 40.
Before arriving at the stadium, students using their ACT Card on a mobile device should make sure their device is charged. Students should also accept any pending ticket transfers or swaps prior to arriving at the stadium.
Through MyTickets, students can transfer their tickets to another student's account who does not already have a ticket or swap upper and lower bowl tickets with other students. Students who are not attending a game can also donate their ticket so another student can use it through MyTickets, while students who do not have a ticket can request to be placed on the waitlist to receive donated tickets on a first-come, first-served basis.
All ticket transfers and swaps must be accepted on MyTickets by the student receiving the transfer or swap before the process will be complete.
For more information visit the MyTickets website or contact the Action Card Office at 205-348-2288 or action.card@ua.edu.
Metal Detectors and Clear Bag Policy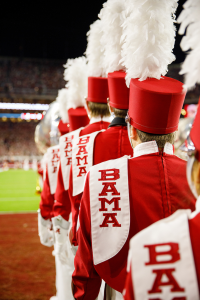 All students will be subject to security screening prior to entering Bryant-Denny Stadium. Security staff will utilize walk-through magnetometers, handheld metal detectors and/or a physical pat-down to screen all guests at security checkpoints. Students should form single-file lines and continue walking through detectors. If further screening is necessary, security staff will alert the student. If a student does not feel comfortable with the metal detector screening due to medical reasons, a physical pat-down will be conducted instead.
Students are allowed to bring in one clear bag. Bags that are clear plastic, vinyl or PVC and do not exceed 12 inches by 6 inches by 12 inches are permissible. One-gallon clear plastic freezer bags (Ziploc bags or similar) may also be used. Small "clutch" purses, no larger than 4 1/2 inches by 6 1/2 inches, with or without a handle or strap, can be taken into the stadium in addition to the approved clear plastic bags.
Water and Cooling Stations
Free water is available on level one at the entrance to section AA, on level two at the entrance to sections BB and S-8, and on level eight at the entrance to sections SS-1 and SS-14. Students may bring an empty cup or water bottle into the stadium and fill it up at one of the Water Monsters.
For students who get overheated, cooling stations are located on level one at the entrance to section AA and on level two at the entrance to section BB.
Concessions
This year students can choose from a variety of food and beverage options including Conecuh sausages, Dreamland barbeque, Papa Murphy's pizza, Chic-fil-A sandwiches, Dippin Dots ice cream and more.
Student Game Day Parking
On a game day weekend, some parking rules change.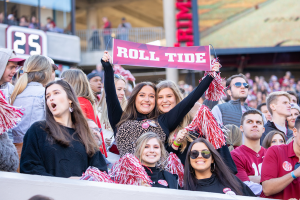 For students in yellow residential zones, all parking areas will remain open until Saturday morning. Once game day parking personnel are in place, only students with a current yellow residential permit will be allowed access to any yellow residential lot or deck.
Orange residential parking areas will also remain open with the exception of the Tutwiler Parking Deck. The Tutwiler Deck will be staffed beginning Friday afternoon. Only students with a current orange residential permit will be allowed access.
For those with silver residential permits, all silver parking areas will remain open until Saturday morning with the exception of the Campus Drive Parking Deck, which will be staffed beginning Friday afternoon. The Campus Drive Parking Deck must be cleared by 5 p.m. Friday. Silver residential permit holders are asked to relocate to the Bryant Hall lot, Fraternity Lane, Jefferson Avenue or Bryce Lawn Apartments.
The tan residential parking area is open until Saturday morning, with exception of the West ten Hoor Surface lots. West ten Hoor Surface Lots must be cleared by 5 p.m. on Friday. All current tan permit holders are asked to park in the tan-only lot located off Fourth Street.
The lower recreation center lot and the northeast commuter lot must be vacated no later than 5 p.m. on Fridays before game days. Towing will begin immediately after 5 p.m. in these lots.
All west commuter lots, southeast commuter lots and northeast commuter lots must also be cleared by 5 p.m. on Fridays before game days. Students needing to remain later than 5 p.m. may park in the Coleman Coliseum lot, softball/tennis lot or perimeter lot until midnight. Any vehicles remaining in these lots after midnight are subject to being towed and a $100 fine.
Commuter students with an active permit may park in the upper recreation center lot on game day Saturdays at no charge while parking is available
Parents should purchase game day parking or should plan to park off-campus.
Latest Information
Get the latest game day information by visiting UAGameday.com, through the UA Gameday app, by following @UAGameday on Twitter and by listening to 92.5 FM UA Info Radio.
The University of Alabama, part of The University of Alabama System, is the state's flagship university. UA shapes a better world through its teaching, research and service. With a global reputation for excellence, UA provides an inclusive, forward-thinking environment and nearly 200 degree programs on a beautiful, student-centered campus. A leader in cutting-edge research, UA advances discovery, creative inquiry and knowledge through more than 30 research centers. As the state's largest higher education institution, UA drives economic growth in Alabama and beyond.