At a celebration on the Quad, The University of Alabama launched its 2021 United Way Campaign with a $400,000 goal.
This year's host, the Capstone College of Nursing, selected the campaign theme Committed to Caring for Those in Need.
Members of the campus community and representatives from area United Way agencies gathered in front of Gorgas Library on Aug. 26 to celebrate the campaign launch. Dr. Suzanne Prevost, dean of the Capstone College of Nursing, welcomed those gathered under the large white tent and spoke to the importance of this annual campaign and the work of the United Way of West Alabama.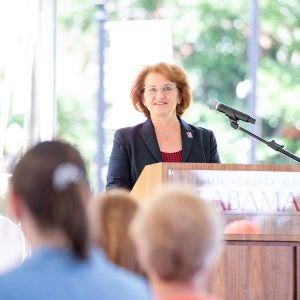 UA President Stuart R. Bell thanked CCN for its campaign leadership  and recognized the college's extraordinary efforts in service to the community over the past many months amid the global pandemic.
In 2020, United Way's partner agencies lost more than $4 million in funding that normally would have been available to them through fundraising and grant opportunities, UWWA CEO Jackie Wuska said at the event. This figure highlights the importance of every donation made during UA's annual campaign.
As UWWA celebrates its 75th year, Wuska said, "We know that the support is there to get us where we need to be, to make the next 75 years even better. We are grateful for you and your leadership."
Sandra Hall Ray said she came out of retirement to serve as 2021 UWWA campaign chair. "As a part of the business community, I've known how important the University family was to our economy," said Ray. "I'm just now realizing how essential you all are to our entire community."
The 2021 UA United Way Campaign co-chairs are Dr. Michelle Cheshire, RN mobility coordinator and assistant professor, and Dr. Michele Montgomery, senior associate dean and associate professor.
"We all know that because of COVID, we are seeing more individuals and families suffering hardships, and that makes the success of this campaign even more vital," said Montgomery, speaking at the event. "I feel confident that UA will demonstrate a continued commitment to caring, making this one of the best campaign years ever."
"Because of COVID, we are seeing more individuals and families suffering hardships, and that makes the success of this campaign even more vital."
Additional CCN staff serving on the campaign are Rosemary Russell, communications specialist, and Patrick McIntyre, coordinator of multimedia production and web-supported applications. Dr. Nicole B. Prewitt, director of programs and partnerships for community engagement at the Center for Community-Based Partnerships, serves as the campaign champion and loaned executive.
The campus coordinating committee supporting the Capstone College of Nursing includes representatives from the Division of Community Affairs, the Division of Finance and Operations (UA Printing, Auxiliary Services, and Facilities) and the Division of Strategic Communications, as well as the Faculty Senate and the Professional Staff Assembly, the Student Government Association, The SOURCE, The University of Alabama Retirees Association, and a host of committee members and department-level coordinators.
UWWA has 26 partner agencies and plays a vital role in improving the quality of people's lives. Partner agencies from Bibb, Fayette, Green, Hale, Lamar, Marengo, Pickens, Sumter and Tuscaloosa counties provide a variety of education, income-related, health and emergency response programs throughout West Alabama.
For information about the UA United Way Campaign, contact Whitney Sewell, Division of Community Affairs, at whitney.sewell@ua.edu or at 205-348-5743.
The University of Alabama, part of The University of Alabama System, is the state's flagship university. UA shapes a better world through its teaching, research and service. With a global reputation for excellence, UA provides an inclusive, forward-thinking environment and nearly 200 degree programs on a beautiful, student-centered campus. A leader in cutting-edge research, UA advances discovery, creative inquiry and knowledge through more than 30 research centers. As the state's largest higher education institution, UA drives economic growth in Alabama and beyond.