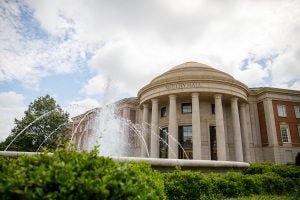 TUSCALOOSA, Ala. – Two distinct initiatives approved today by The University of Alabama System Board of Trustees will enhance UA's mission to educate tomorrow's leaders and innovators, thanks to the visionary leadership of recently retired U.S. Sen. Richard Shelby.
The Shelby Endowment for Distinguished Faculty leverages $100 million in Congressionally directed funding to create a permanent endowment that supports the recruitment and retention of exceptional faculty members in science, technology, engineering and math, or STEM, disciplines.
This will be the single largest contribution to the endowment in the history of The University of Alabama System.
UA also announced the creation of the Shelby Institute for Policy and Leadership, focused on providing premier educational programs for students interested in policy. The Shelby Institute will benefit from the official Senate papers, records and materials graciously donated by Shelby at the conclusion of his public service.
Both initiatives are named for Sen. Shelby and his wife, former UA professor Dr. Annette Shelby, who have long shared a dedication to the growth of Alabama's capstone of higher education, as exhibited in their lifetimes of respective service in the U.S. Senate and in higher education.
"Education is key to unlocking opportunity, which is why I believe one of the most important investments we can make is in our classrooms and is why I dedicated several years to securing a permanent endowment that will allow The University of Alabama to multiply its impact in STEM," Sen. Shelby said. "This will be critical to innovation that advances success and security across Alabama and the nation. My wife Annette and I are also honored by the University's establishment of the Shelby Institute for Policy and Leadership, which will train generations of future leaders with a shared passion for policy and public service."
These two initiatives are among the latest in a long list of programs and facilities on the UA campus created or funded as a direct result of Shelby's distinguished service and staunch support of UA and the entire UA System.
"On behalf of the UA System Board of Trustees and the entire UA System, we are forever grateful for Sen. Shelby and Dr. Shelby's selfless service and dedication to education," said UA System Chancellor Finis St. John. "Sen. Shelby has already improved countless lives through his commitment to teaching, research and service, and through these two initiatives, his legacy will forever positively impact our students and our state."
St. John also praised Sen. Shelby's bold vision for the endowment and expressed a firm commitment to carrying on that vision of transforming the University, the state and the lives of Alabama citizens.
UA President Stuart Bell agreed, saying, "These two initiatives will boost the experience of UA students in and out of the classroom, helping them prepare for careers of impact in their communities. Sen. Shelby's long support and advocacy of the University and higher education will continue through these initiatives and in the lives of the faculty, staff and students impacted."
The Shelby Endowment for Distinguished Faculty will support the work of faculty members in the STEM fields, building upon UA's renowned academic offerings and innovative research enterprise. Faculty in these areas engage students to understand and propose solutions for society's grandest challenges. Participating faculty will have demonstrated leadership in transformation, innovation and entrepreneurship with prestigious achievements in their field of study.
The endowment's impact is expected to be transformative for both the campus and the state by unlocking research opportunities that could ultimately affect jobs, the economy and the lives of Alabama citizens.
"The Shelby Endowment will strengthen the University's ability to attract and keep premier faculty and students in areas critical to our state's economic growth and will allow for more opportunities for student engagement in research and scholarship," said Dr. Jim Dalton, UA executive vice president and provost.
The Shelby Institute is envisioned as a student-focused academic and service program concentrated on the education and training of students interested in policy. About 20 undergraduate students are anticipated for selection annually into the Shelby Scholars Program, a two-year leadership program. Students in the program must complete a minor in public policy and will receive a scholarship for $1,000 for each year in the program.
The cohort of 40 students will participate in specialized coursework in policy and unique experiences outside of the classroom, including internship and professional development experiences, national conferences, a speaker series, and interactions with prominent political leaders and policy analysts on a local, state and national level.
The UA System Board of Trustees will appoint an advisory board to assist the Shelby Institute with programmatic implementation and strategic planning. The first scholars are expected to be selected for the Fall Semester 2024.
"The Shelby Institute will be a premier program for students interested in pursuing policy and public service and will be a valuable addition to our academic programs," Dalton said. "Our state and nation will benefit greatly from the experience and knowledge these students gain through this unique opportunity."