As the COVID-19 pandemic took hold of the nation earlier this year, the Capstone College of Nursing and all colleges at UA met the challenge of making a swift reconfiguration of course delivery in a short period of time.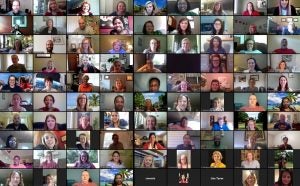 UA closed for spring break March 13. Instead of the usual rest and relaxation, CCN faculty and staff set to work, preparing for the possibility of a complete transition to remote learning for the remainder of the spring semester.
While this mode of educational delivery presented many UA departments with challenges, CCN had the unique task of creating comparable clinical nursing experiences through a virtual medium.
Fortunately, by March, the majority of CCN students had completed most of their clinical requirements. For remaining clinical hours, CCN faculty engaged in creative strategies to provide clinical opportunities for students. For instance, complex-client faculty developed four case studies in video format with questions embedded throughout the study. Students were given preparatory work to complete, then clinical groups completed the studies via Zoom.
Students in mental health supplemented clinical work through an interview project. Each student was given a topic and a list of therapeutic and non-therapeutic communication techniques. Using the topic and techniques, they conducted an interview and documented their conversations, pointing out therapeutic and non-therapeutic techniques they used.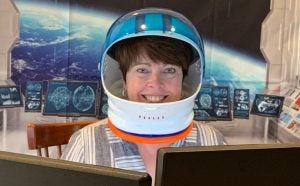 As the adapted spring semester closed, it became apparent that traditional in-person learning would not be possible for summer terms. This posed a significant hurdle for CCN's nursing fundamentals course, which requires 180 clinical hours for completion.
Partnering clinical sites were unable to place students in their agencies in the midst of a global pandemic, so both fundamentals and the complementary pharmacology course were rescheduled for the fall semester. This meant faculty would teach two cohorts in those classes in the fall.
As CCN planned for the 2020-2021 academic year, faculty and staff developed creative solutions to traditional learning, employing a hybrid mode of delivery to combine remote learning with in-person aspects throughout the fall semester. Some of these solutions, submitted by traditional BSN faculty members, include:
Semester four faculty collaborating to rotate all students 50% through every clinical site by Oct. 1, then back through again. This provides each student the opportunity to move through each rotation, even if the semester is interrupted.
A partnership with a Nigerian organization allows for Zoom clinical opportunities, working with children at their school. Nursing students assess growth and development milestones of a classroom of Nigerian children and provide health promotion education.
A new project developed for pathophysiology fosters student subject-matter expertise for specific diseases. In this project, students create an online presentation, concept map, discussion board and three potential test questions pertaining to their assigned disease. All students view their peers' work and engage in dialogue through the discussion boards, allowing students to serve as educators for their peers.
Simulation kits (which include models for injections, wound care, etc.) will be provided to students to augment teaching of clinical procedures during hybrid learning. This hands-on practice is imperative in developing nursing students' psychomotor skills.
The COVID-19 pandemic will be remembered as a time when nursing education was challenged to be flexible and creative. Through the mentioned strategies and many others, CCN is confident it can continue to provide a robust learning experience for each student.
The University of Alabama, the state's oldest and largest public institution of higher education, is a student-centered research university that draws the best and brightest to an academic community committed to providing a premier undergraduate and graduate education. UA is dedicated to achieving excellence in scholarship, collaboration and intellectual engagement; providing public outreach and service to the state of Alabama and the nation; and nurturing a campus environment that fosters collegiality, respect and inclusivity.