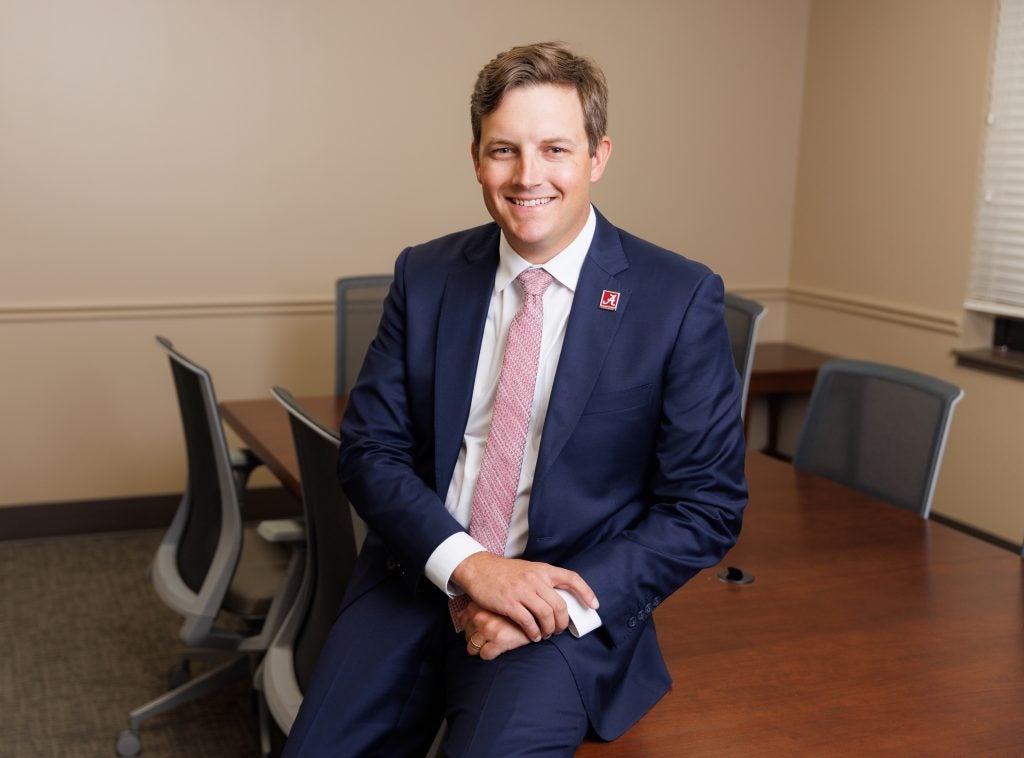 TUSCALOOSA, Ala. – An innovator and proven leader at the forefront of weather- and water-related data science with extensive experience in federal programs has been named the new executive director of the Alabama Water Institute.
Matthew Womble joined The University of Alabama earlier this month to lead AWI in fulfilling UA's commitment to be a premier research and education institution around water-related issues.
Womble comes to UA from Saildrone, a company based in California that designs, manufactures and operates wind- and solar-powered autonomous surface vehicles that provide cost-effective ocean data collection.
He is charged with steering AWI to become a world-class interdisciplinary water research institute that develops pathbreaking, holistic and environmentally friendly solutions to ensure people and ecological systems have access to clean water and are resilient to extreme weather events.
In addition, AWI-affiliated researchers across campus lead innovative water-related projects that improve society while enhancing the education of UA's students.
"Matt is an outstanding professional and is a leader in the water industry. He has substantial experience at the highest levels of government and is in a strong position to direct the rapid growth trajectory of the Alabama Water Institute," said Dr. Allen Parrish, interim vice president for research and economic development. "The University of Alabama is extremely fortunate to recruit Matt to lead the institute."
This marks Womble's second stint in Tuscaloosa after working at the National Water Center located on the UA campus in 2018.
"I am honored to have the opportunity to join the dedicated team of professionals leading the Alabama Water Institute. The combined academic and federal water research enterprise at The University of Alabama is second to none and is well on its way to becoming the premier hub for water-related research," Womble said. "I look forward to leveraging my previous experiences and relationships and engaging with UA faculty, students and AWI partners to design, lead and execute an enduring strategy that will enable continued success and growth for the Alabama Water Institute."
Womble joined Saildrone in 2021 as director of ocean data programs responsible for business development and government relations and supported mission planning for all contracted ocean data missions.
Before Saildrone, Womble worked for four years as a professional staff member on the United States Senate Appropriations Committee, Subcommittee on Commerce, Justice, Science, and Related Agencies. In this role, he directed and led the formulation of annual and emergency appropriations legislation that funded the Department of Commerce, including the National Oceanic and Atmospheric Administration and the National Institute of Standards and Technology, among others.
Womble was a 2016 John H. Knauss Sea Grant Fellow, during which he worked in the office of the NOAA chief scientist and spearheaded efforts to evaluate and improve NOAA's research and development portfolio. Following the fellowship, Womble remained at NOAA and worked in the Office of the NOAA Administrator and at the NWC.
He earned a Bachelor of Science degree from Mississippi State University in 2012 and his Master of Science from Auburn University in 2015.
---
The University of Alabama, part of The University of Alabama System, is the state's flagship university. UA shapes a better world through its teaching, research and service. With a global reputation for excellence, UA provides an inclusive, forward-thinking environment and nearly 200 degree programs on a beautiful, student-centered campus. A leader in cutting-edge research, UA advances discovery, creative inquiry and knowledge through more than 30 research centers. As the state's largest higher education institution, UA drives economic growth in Alabama and beyond.