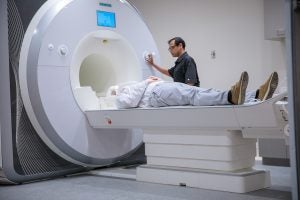 TUSCALOOSA, Ala. – The next breakthrough in human development and health research could come from The University of Alabama.
Several projects are lining up to take advantage of the capabilities offered by a recently installed MRI, helping researchers gain a deeper understanding of how the human brain works and future studies could involve orthopedic and sports medicine. With access to participants from rural, underserved communities, UA's new MRI Research Facility will also expand the diversity of research data that could impact national studies.
The Alabama Life Research Institute is hosting a grand opening of the facility at 3 p.m. Friday, Oct. 28. Tours of the facility located on the back side of the University Medical Center will be available. Dr. Russell Mumper, vice president for research and economic development, and Dr. Sharlene Newman, ALRI executive director, will give brief remarks, as well.
The new UA MRI Research Facility will be used by researchers across campus, particularly from psychology, education, communicative disorders, health sciences, engineering, kinesiology and athletic training. It is the centerpiece of UA's growing focus on neuroscience research allowing for the examination of the human brain and its development. The facility has about 9,700 square feet of space comprising two MRI bays along with research, training and administrative offices.
The Alabama Life Research Institute will oversee the UA MRI Research Facility and facilitate and encourage innovative and cross-disciplinary projects using the MRI. The facility is designed with space for behavioral data collection including biospecimen collection and processing, electroencephalography data collection and an MRI simulator.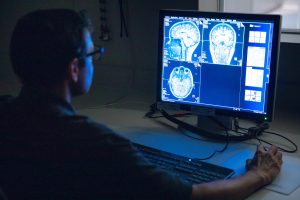 "The MRI Research Facility leverages the University's strengths in neuroscience and neuroimaging along with our deep commitment to rural healthcare to position our faculty and students to tackle challenges affecting quality of life," said Dr. Russell J. Mumper, vice president for research and economic development.
A $1.7 million major research instrumentation grant from the National Science Foundation enabled the purchase of the state-of-the-art Siemens 3.0 Tesla MAGNETOM Prisma MRI scanner. The MRI system is a whole-body scanner that allows for the acquisition of higher image quality and faster scan times.
A project studying brain development in children and another examining teenagers and young adults with Down Syndrome are awaiting final approval to begin using the scanner, and other studies examining word learning and second-language learning are also in the pipeline to use the MRI.
"The research taking place in the MRI Research Facility will be broad and will make full use of the capabilities of the MRI scanner," said Dr. Sharlene Newman, executive director of the Alabama Life Research Institute overseeing the new UA MRI Research Facility on campus. "There are a number of grants under review and being submitted that will make use of the facility. This is an exciting time at UA."
Contact
Adam Jones, UA communications, 205-348-4328, adam.jones@ua.edu
The University of Alabama, part of The University of Alabama System, is the state's flagship university. UA shapes a better world through its teaching, research and service. With a global reputation for excellence, UA provides an inclusive, forward-thinking environment and nearly 200 degree programs on a beautiful, student-centered campus. A leader in cutting-edge research, UA advances discovery, creative inquiry and knowledge through more than 30 research centers. As the state's largest higher education institution, UA drives economic growth in Alabama and beyond.