A partnership the Student Government Association initiated last fall is yielding results that benefit UA students.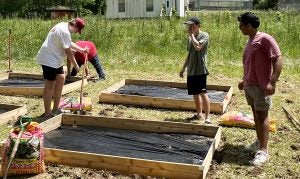 A new garden on the UA Arboretum's grounds had its first harvest recently, supplying fresh vegetables for UA's food pantry.
SGA President Madeline Martin said the project expands the food options available to students seeking food assistance.
"Food insecurity on college campuses is something I am really passionate about and wanted to lend any hand to help with our campus efforts," she said. "I knew there were nonperishable products, but I wanted to use the Arboretum as a resource to be able to provide fresh vegetables and give back to students in a sustainable way."
The initiative began in fall 2021, with Martin meeting with local planting experts, including Dr. Michael McKain, curator of The University of Alabama Herbarium. Tuscaloosa master gardener Ann Hewitt and Kristen Dubose of the UA food pantry also contributed.
"We started in November just getting to know Dr. McKain," Martin explained. "We talked about what were good foods to grow and what would do well."
The garden layout was finalized in January, and the beds were built and planted in late spring. There are currently four beds with room to expand up to 16.
"We've planted tomatoes, summer squash, cucumbers, carrots and sweet peppers," Martin said. The first harvest of summer squash and cucumbers was delivered to the food pantry at the end of August.
SGA also purchased a freezer for the food pantry to hold the fresh vegetables and Dubose said other cold storage units are set to arrive at the food pantry any day now.
SGA members have been helping tend the crops and Martin is looking into ways more members can help.
"I hope to loop in the first-year council to help build the beds as we grow," Martin said.
In the meantime, she's been watering the plants and cultivating the beds here and there, consulting the team's experts and state planting guides on what the team can plan for throughout the year and years to come.
Learn more about requesting food assistance or making a financial donation to the food pantry on the Student Care and Wellbeing website.