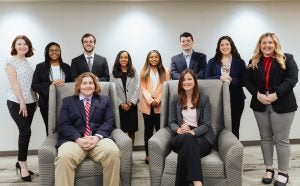 TUSCALOOSA, Ala. — The University of Alabama College of Community Health Sciences recently welcomed the first class of a new summer program for college students in pre-medical studies who are interested in rural primary care.
The Tuscaloosa Rural Pre-Medical Internship is a seven-week program that provides opportunities for students to learn about the health needs of rural Alabama residents, particularly in the fields of family medicine, internal medicine and pediatrics. Participants will also gain a better understanding of the day-to-day life of family medicine doctors. The program also seeks to enhance students' understanding of medical school and increase their competitiveness for medical school admission.
The program is part of the college's Rural Programs and its Rural Health Leaders Pipeline. The pipeline is a sequence of programs from high school through medical school that recruit students from rural Alabama interested in working as future doctors and other health care professionals in rural communities.
"It means a great deal for CCHS Rural Programs to host these students as it adds another entry point into the Rural Health Leaders Pipeline whose mission is to demonstrate programs that encourage, attract and nurture students of rural Alabama into and through programs to 'grow our own' rural health professionals who are leaders in developing healthy communities," said LaKeshia Whigham, program coordinator of CCHS Rural Programs. "I hope the students learn that they are an invaluable resource to their communities and understand the impact primary care physicians can have on rural areas in the state.
"We want these students to know our programs can be an avenue in their journey to serve rural Alabama."
Students will spend five weeks at CCHS and two weeks with a family medicine physician near their hometown.
To be eligible for the internship, students must have completed four semesters of undergraduate coursework, obtained an overall GPA of a B range or higher and scored at least a 22 on the ACT or 1200 on the SAT. Only rural Alabama residents are accepted.
The inaugural class of the Tuscaloosa Rural Pre-Medical Internship includes:
Cage Cochran, of Fyffe.
Savannah Cook, of Meridianville.
Maycie Edmondson, of Slocomb.
Fredashia Foy, of Dadeville.
John Ellis Kuykendall, of Samantha.
Alia Malone, of Odenville.
Benjamin Mathis, of Pelham.
Gabby Murphy, of Wicksburg.
Ariana Ramos, of Enterprise.
Sydney Ratliff, of Cullman.
Contact
Leslie Zganjar, UA College of Community Health Sciences, lzganjar@ua.edu, 205-348-3079
The University of Alabama, part of The University of Alabama System, is the state's flagship university. UA shapes a better world through its teaching, research and service. With a global reputation for excellence, UA provides an inclusive, forward-thinking environment and nearly 200 degree programs on a beautiful, student-centered campus. A leader in cutting-edge research, UA advances discovery, creative inquiry and knowledge through more than 30 research centers. As the state's largest higher education institution, UA drives economic growth in Alabama and beyond.