It all started with Seth Warren wanting to create something for his wife. Warren had dabbled with fabrication and woodworking, so he decided to carve a wooden lamp.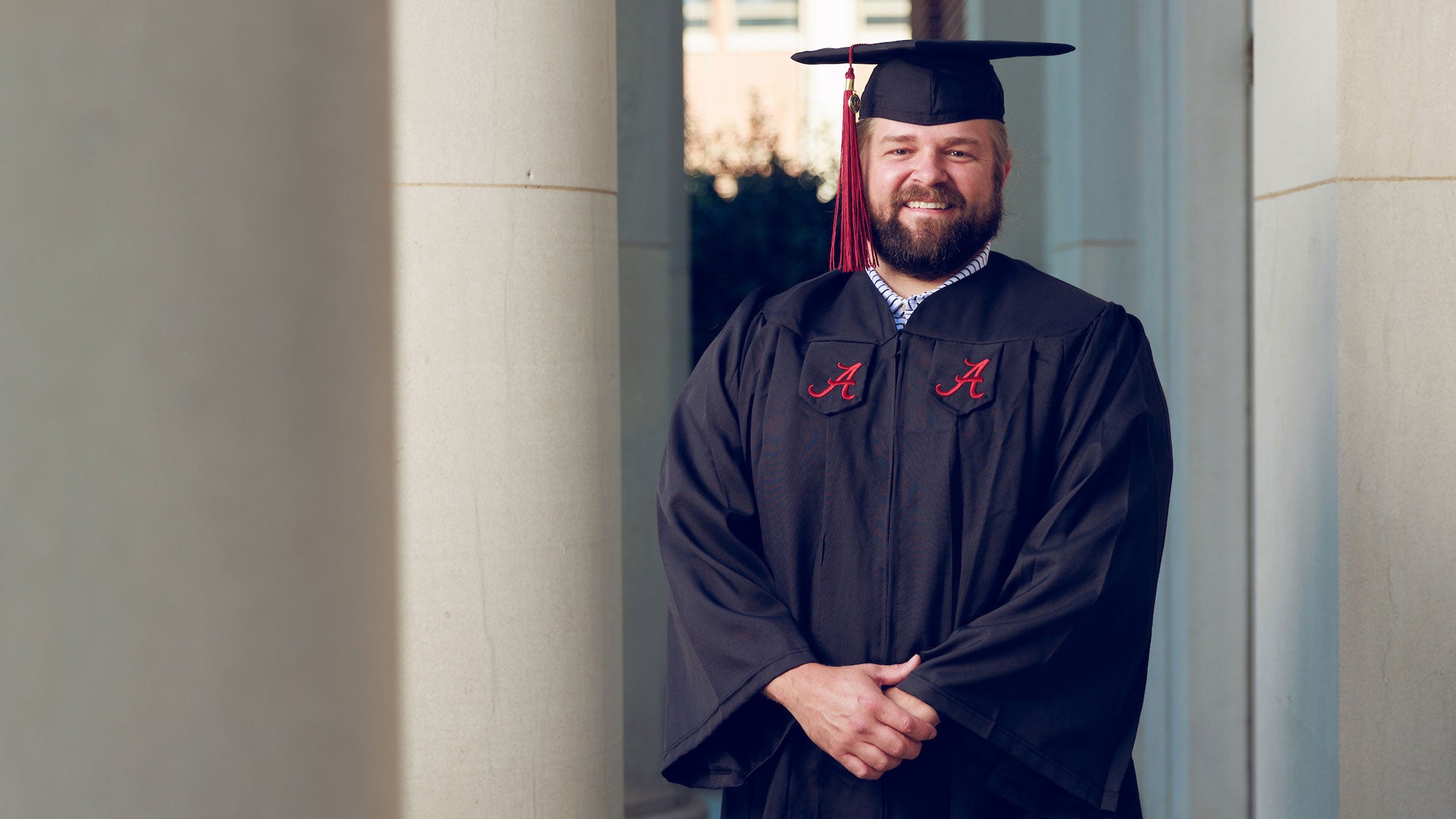 Years later, the lamp still sits in his house, reminding him of where his unexpected journey to becoming a woodworker and interior designer began. On May 6, Warren will celebrate the next phase of his path as he graduates with his bachelor's degree in interior design from UA. 
The Tuscaloosa native attended three other colleges after high school, but nothing really fit him. He eventually found his place by answering the call to serve his country and enlisting in the U.S. Army in 2013. Warren thrived in the military, but an injury cut his career short. After retiring from the Army in 2017 at the age of 31, he asked himself, "Now what?"
Warren took a leap of faith and decided to return to school after nearly a decade. He thought he wanted to go into physical education but changed his mind after his UA orientation.  
"I got out of the military, moved to Tuscaloosa and thought, 'I'm going to give this another try,'" Warren said. "I went to orientation planning to pursue a degree in kinesiology but then overheard someone talking about going into interior design. I asked what that was and learned that it's not interior decorating like many people think. Designers do a lot more than pick out the color — they plan out architecture and design spaces." 
Warren thought about the lamp he made for his wife and how much he enjoyed crafting beautiful, useful things from scratch. 
"I changed my major the same day and never looked back," he said. 
"If I could finish this degree and take all the skills I've learned, I can use this for my business." 
With his eye for design developed through his woodworking skills and his discipline built while serving in the military, Warren excelled, rising to the top of his classes. But in 2019, he took a year off to focus on his growing family and starting his own business, Whiskey Woodwork and Design. 
When the pandemic hit the United States in 2020, he capitalized on the time in lockdown. He honed his skills, focusing on details and mastering different techniques. However, there was a nagging voice in the back of his head that told him to go back to class. 
"I kept thinking, 'Man, I wouldn't be able to do any of this without the skills I had already learned. I have to go back,'" Warren said. "If I could finish this degree and take all the skills I've learned, I can use this for my business." 
At UA, Warren learned how to render cutting-edge 3D images and create digital mock-ups of designs. These skills set him apart from others because he can supply a design to a client and change it as needed before cutting a single board or drilling one hole.  
Whether it's porch bed swings or buffet tables or newborn door signs, Warren takes joy in his work and credits the skills he gained while at UA for helping him discover and pursue this new career path.  
Armed with his new degree, Warren not only plans to continue growing his business but also bolster his fellow artists and craftspeople in the area. 
"I hope to help revitalize the arts scene in Tuscaloosa by working with local artists, carpenters and more," Warren said. "West Alabama has talented artists, especially in small towns. It's a sense of community, and I hope to build that here." 
Contact
Caroline Gazzara-McKenzie, UA Strategic Communications, caroline.mckenzie@ua.edu
The University of Alabama, part of The University of Alabama System, is the state's flagship university. UA shapes a better world through its teaching, research and service. With a global reputation for excellence, UA provides an inclusive, forward-thinking environment and nearly 200 degree programs on a beautiful, student-centered campus. A leader in cutting-edge research, UA advances discovery, creative inquiry and knowledge through more than 30 research centers. As the state's largest higher education institution, UA drives economic growth in Alabama and beyond.