The Division of Diversity, Equity and Inclusion in partnership with Bama Hillel and the Alabama Holocaust Education Center will host Remembering the Holocaust, a special program to honor the lives of those lost during the Holocaust, April 12 at 6 p.m. in the Ferguson Theater in The University of Alabama Student Center.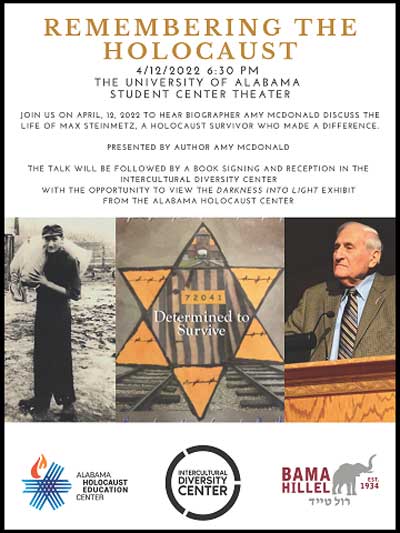 Author and biographer Amy McDonald will be the keynote speaker for the event, discussing details of the life and experiences of Holocaust survivor Max Steinmetz. Steinmetz was held in German captivity from 1942 to 1945 in at least five camps. In 1949, Steinmetz immigrated to New York before relocating to Birmingham in 1955 as a clothing executive. In 2021, Steinmetz passed away.
"It is our hope that the University community takes this time to gain a deeper understanding of the importance of remembering the atrocities of the Holocaust," said Lisa Besnoy, executive director of Bama Hillel.
"Until his passing last year, Max would travel and tell his own heroic story. It is important that his story continues to be told. Two of Max's grandchildren are currently on campus. Charlie and Jack [Steinmetz] are actively involved on campus, and we hope this story of survival will be passed on through them and resonate with the campus community — as we stand by and support each other."
Charlie and Jack Steinmetz grew up in the greater-Birmingham area. Charlie Steinmetz is a three-time alumnus and current law student. Jack Steinmetz is currently enrolled at the Capstone, working towards a bachelor's in mechanical engineering and a master's in business administration. Both will be in attendance.
Following the keynote address, a reception and book signing opportunity with McDonald will be held from 7:30 to 9 p.m. Registration is required.