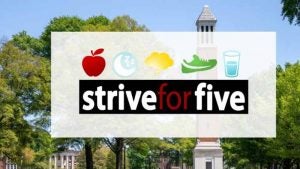 Strive for Five is a free, five-week online wellness program that helps you develop better health habits. This year, Strive for Five runs from Sept. 13 to Oct. 17.
Program Details
Register by Sept. 13 on the myBAMA wellness portal and select two or more goals in the five categories offered: eat, sleep, think, move or drink. Strive for Five starts with a launch on the Quad Sept. 13 from 11 a.m. to 1 p.m. There will be activities, giveaways and more; but, you are not required to attend the kickoff to participate. Just make sure you register, select your goals and track your daily progress.
Team or No Team
Some employees like to participate in teams for the accountability and camaraderie. Teams can be from two to five people, and the team captain's job is to offer encouragement. Each team member registers and tracks progress individually. Join an existing team, create your own team or go solo. You register and track your own progress, whether as an individual or team member.
Better than Free
Pick up a prize for completing the program at the Quad in Motion event Oct. 20. And, Strive for Five qualifies as a WellBAMA Rewards program. Attend a wellness class along with completing Strive for Five, and you earn an additional $50 in WellBAMA Rewards in December.
After Strive for Five
Subscribe to the Wellness and Work-Life monthly newsletter. It's chock-full of resources and will help you keep up with wellness programs and events.
The University of Alabama, part of The University of Alabama System, is the state's flagship university. UA shapes a better world through its teaching, research and service. With a global reputation for excellence, UA provides an inclusive, forward-thinking environment and nearly 200 degree programs on a beautiful, student-centered campus. A leader in cutting-edge research, UA advances discovery, creative inquiry and knowledge through more than 30 research centers. As the state's largest higher education institution, UA drives economic growth in Alabama and beyond.