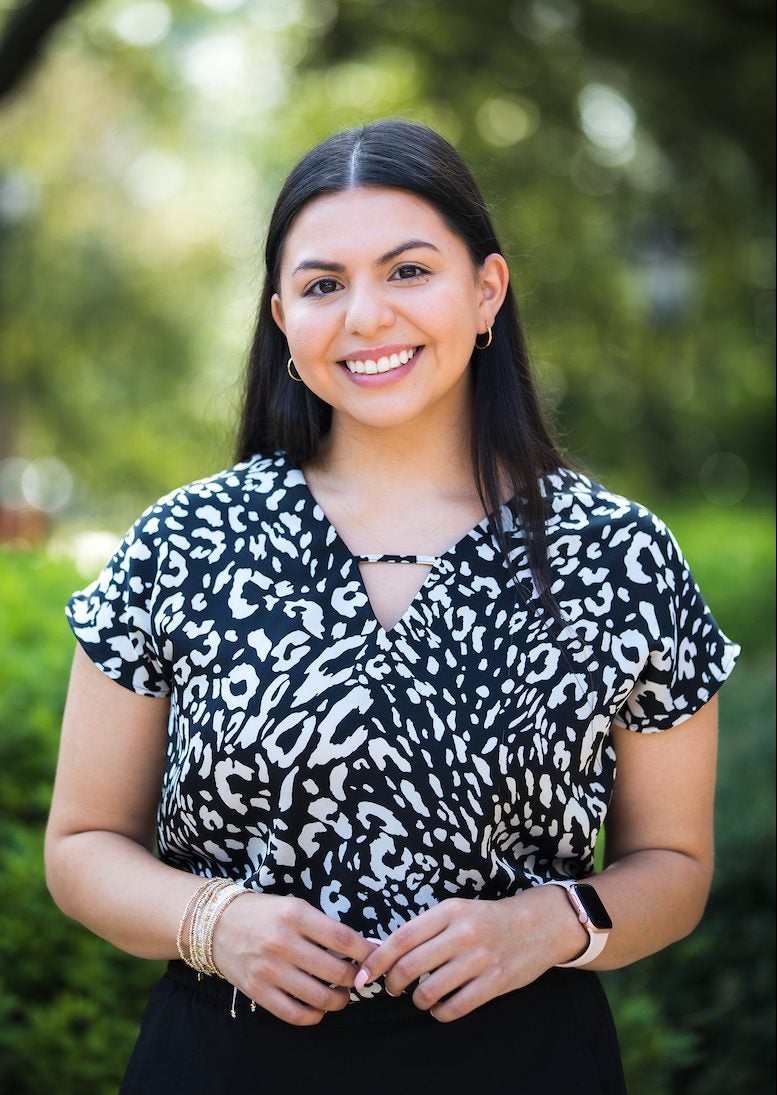 Growing up as a Mexican Texan in Dallas, Carina Villarreal said her family has always celebrated Hispanic/Latinx Heritage Month because it highlights and honors their culture in a country that isn't always mindful of the Latino-Hispanic contributions that helped make it great.
"For me and my family this month means a lot to us," said Villarreal, a second-year social work graduate student and graduate assistant in the Division of Diversity, Equity and Inclusion.
"When it comes to the arts, history and many other fields, it's used to lift up Latin voices. We're not always used to seeing our voices lifted up here, and it's important for young Latinos, Latinas and Hispanics to see representation of themselves in whatever fields they want to be in, whether that's as a chef or a CEO."
Villarreal said she doesn't do anything specific to commemorate the month when it comes around each year, but she doesn't have to.
She celebrates it in the way she lives.
"We have these months to highlight the accomplishments and honor those in history," she said. "My life is a celebration of my culture and history. I don't need a month for it, but it is awesome to have it because the nation celebrates our culture."
"It's welcoming people into my culture that changes hearts and minds, and we're a very welcoming people who love people experiencing our culture."
Villarreal said she is constantly on the lookout for companies and brands celebrating Latino and Hispanic culture so she can support and endorse them.
She also affirms Latino and Hispanic culture daily by participating in and promoting events that positively reflect the culture and by engaging in meaningful conversation with non-Latinos.
"Some students feel like they have to do big things to celebrate and support a culture and community, but it doesn't take all that," she said. "Every step in the right direction is a good step. That's what changes minds, that's what changes hearts.
"If I can have one conversation about a hard topic involving Hispanic or Latino culture, if I can take someone to an authentic Hispanic or Latino restaurant, in my experience that's what impacts people. It's welcoming people into my culture that changes hearts and minds, and we're a very welcoming people who love people experiencing our culture."
Villarreal graduated from The University of Alabama in spring 2020 with a bachelor's degree in public relations and communications studies. She is a proud member of UA's Blackburn Institute, a program she said is creating diverse leaders who are changing the world.
She's also proud of being president of the Hispanic-Latino Association, a student organization that brings Latino and Hispanic students at UA together to celebrate their culture, educate, create political awareness and have hard conversations. The organization became inactive during the 2020-2021 school year due to the pandemic, but Villarreal said the association is ready to be resurrected and welcomes all Latino and Hispanic students who are interested in joining.
Contact
Jamon Smith, UA Strategic Communications, jamon.smith@ua.edu
The University of Alabama, part of The University of Alabama System, is the state's flagship university. UA shapes a better world through its teaching, research and service. With a global reputation for excellence, UA provides an inclusive, forward-thinking environment and nearly 200 degree programs on a beautiful, student-centered campus. A leader in cutting-edge research, UA advances discovery, creative inquiry and knowledge through more than 30 research centers. As the state's largest higher education institution, UA drives economic growth in Alabama and beyond.