The University of Alabama Career Center is rolling out several professional development and networking opportunities in September, including two that are centered on diversity and building intercultural competency.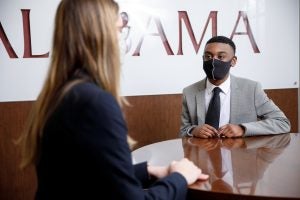 Diverse Reverse

"Diverse Reverse is a career fair but in reverse," said Joe Hawley, manager of diversity programming and outreach at the UA Career Center, which is part of the Division of Student Life. "Instead of the students approaching the employers, employers go to the student tables and approach them. It's a good way for students to network with employers about diversity initiatives and the event produces a lot of internships and job shadowing opportunities."
Diverse Reverse will be held virtually through the Career Fair Plus app Sept. 23 from 5:30 to 6:30 p.m. After downloading the app and creating an account, students will be able to access more than 20 employers from across the nation during the event.
To sign up for Diverse Reverse, students need to sign into their Handshake accounts — every student has one — search for Diverse Reverse and follow the instructions. Students can register up until the day of the event.
"We want students to learn international and intercultural competencies," Hawley said. "In a sense, we're trying to push students to become culturally fluent and be prepared for the ever-changing and diverse workforce they're about to enter."
TIDE Match Competition
The Innovator and Diverse Employer Match program, or TIDE Match, matches student organizations with employers so students can learn effective ways of implementing diverse practices within their organizations.
"This year we had the African Student Association matched with ALKU, which is a consulting services firm out of Massachusetts," Hawley said. "They worked together to design a diversity project that the students could implement, pitched it to us and were selected as the winner.
"They were given $5,000 to implement their project, Taste of Africa, on campus. They made different African cuisines available to the student body."
While the TIDE Match competition will be held in April 2022, student organizations can apply now for the competition through Handshake.
Annual Career Fair
The final Career Center event in September is the annual career fair. This year the event is split into two days: one day in-person and the other virtual.
The in-person career fair will be held at Coleman Coliseum from 10 a.m. to 3 p.m. Sept. 22. The virtual career fair will take place Sept. 23 from 1 to 5 p.m. on the Career Fair Plus app.
Contact
Jamon Smith, UA Strategic Communications, jamon.smith@ua.edu
The University of Alabama, part of The University of Alabama System, is the state's flagship university. UA shapes a better world through its teaching, research and service. With a global reputation for excellence, UA provides an inclusive, forward-thinking environment and nearly 200 degree programs on a beautiful, student-centered campus. A leader in cutting-edge research, UA advances discovery, creative inquiry and knowledge through more than 30 research centers. As the state's largest higher education institution, UA drives economic growth in Alabama and beyond.