TUSCALOOSA, Ala. — In Alabama, nearly 800,000 people face food insecurity every day and more than 225,000 of those are children, according to Feeding America. It's a staggering figure, and something far too many have faced.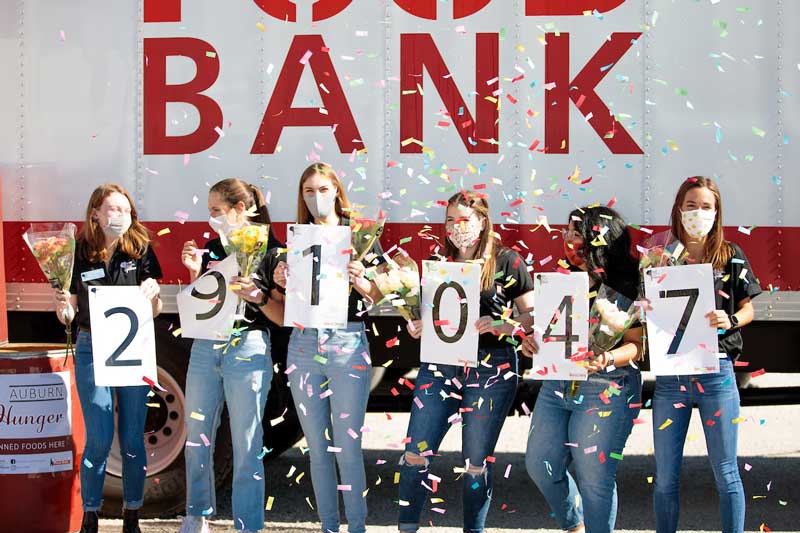 A team of University of Alabama students will be working to raise awareness about food insecurity while collecting donations for the West Alabama Food Bank during the annual Beat Auburn Beat Hunger food and fund drive.
The kickoff event takes place Oct. 1, from 11 a.m. to 3 p.m. at The University of Alabama Student Center. The drive runs through Nov. 18.
"Food insecurity is in every state and every city," Olivia Hannum, president of this year's BABH team, said. "One in six Alabamians and one in four children face this. That's what stood out to me. I really can't imagine taking what I've learned and not doing anything with it."
Founded in 1994, this marks the 27th year for the annual drive where UA students compete with the Beat Bama food drive at Auburn University. Last year, the BABH team beat Auburn and raised 291,047 pounds of food, which fed people from November 2020 to June 2021. This year, the team aims to donate 300,000 pounds to the food bank, which serves Tuscaloosa, Greene, Fayette, Hale, Lamar, Sumter, Pickens, Marion and Bibb counties.
With more than a thousand donation barrels stationed across campus and the city of Tuscaloosa, students, faculty, staff and community members can donate conveniently. The BABH team will collect the goods throughout the campaign, bringing them to the West Alabama Food Bank. Last year, due to the pandemic, the BABH team went virtual, accepting monetary donations in addition to canned goods. The team hopes to offer the same options this year, as well as learning experiences.
"It was my freshman year, and what really struck me was when I learned about the children that are food insecure in our state," Hannum said. "I learned about the secret Meals Program where people put meals in schoolchildren's bags to last them through the weekend. It's so hard to see these little kids who have no control over their situation, are worried about their meals for the next three days. That was a driving force for me."
Jenny Keogh, vice president of BABH operations, has a similar passion. Growing up, Keogh was surrounded by giving back in whatever way possible, and it has stayed with her. "My dad was always very involved with the Golden Harvest Food Bank in Georgia," Keogh said. "So while I've never faced it nor known anyone that has, I've been aware that it's around me. It motivates me."
What You Can Donate and Where:

 
In addition to canned foods, shelf-stable foods like peanut butter, chips, pasta, rice, lentils, canned milk and oatmeal are needed. Donation barrels can be found across campus, at the Tuscaloosa Public Library, YMCA and several area churches. Online donations can be made to the annual food drive until Thursday, Nov. 18.
Contact
Caroline Gazzara-McKenzie, UA Strategic Communications, caroline.mckenzie@ua.edu
The University of Alabama, part of The University of Alabama System, is the state's flagship university. UA shapes a better world through its teaching, research and service. With a global reputation for excellence, UA provides an inclusive, forward-thinking environment and nearly 200 degree programs on a beautiful, student-centered campus. A leader in cutting-edge research, UA advances discovery, creative inquiry and knowledge through more than 30 research centers. As the state's largest higher education institution, UA drives economic growth in Alabama and beyond.