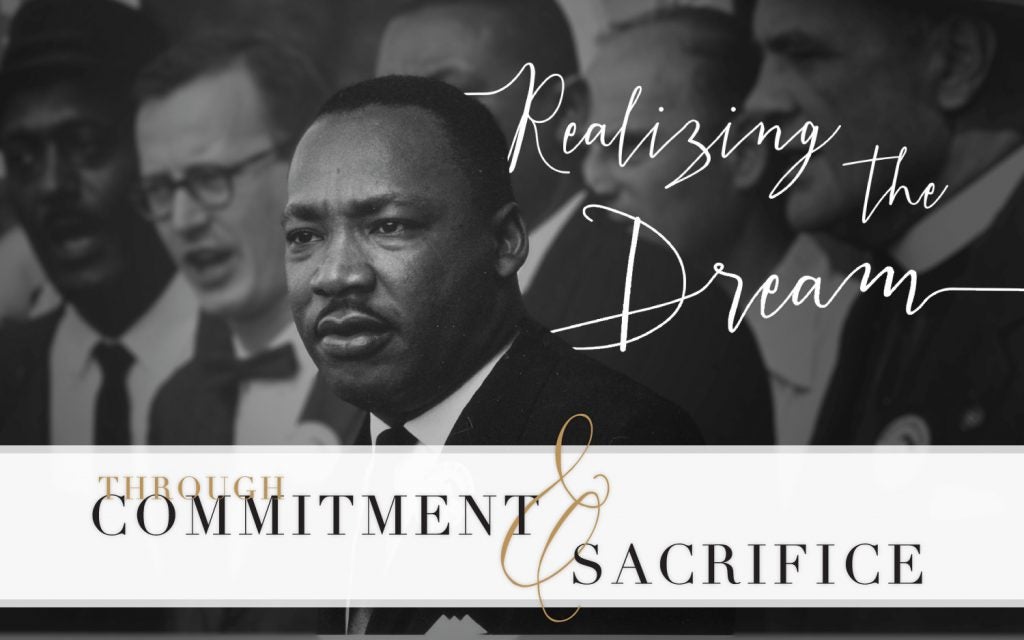 TUSCALOOSA, Ala. — The 2023 Realizing the Dream theme and activities will honor several individuals dedicated to military service and service personnel and will feature a gospel singer.
The theme for this year's events, "Realizing the Dream Through Commitment and Sacrifice," was selected by the Realizing the Dream committee, which includes representatives from Shelton State Community College, Stillman College, the Tuscaloosa chapter of the Southern Christian Leadership Conference and The University of Alabama.
The 14th Legacy Awards Banquet will take place in Sellers Auditorium at the Bryant Conference Center Friday, Jan. 13, at 6:30 p.m. and will feature retired Lt. Gen. Russel L.Honoré as the speaker. Honoré received international recognition in 2005 when he led 22,000 troops in the post-Hurricane Katrina recovery efforts. Then in 2022, Honoré was praised by House Speaker Nancy Pelosi for his investigation into the security failures at the U.S. Capitol on Jan. 6, 2021.
At the banquet, retired Lt. Col. George Hardy, one of the few living Tuskegee Airmen, will receive the Mountaintop Award. He received his pilot's wings and was commissioned as a second lieutenant in September 1944. Throughout his career, he flew 21 combat missions in World War II, 45 in the Korean War and 70 in Vietnam. Retired from the military since 1971, he continues to share the story of the Tuskegee Airmen.
Retired Lt. Gen. Willie J. Williams, for whom the Stillman College Institute for Leadership, Education Equity and Race Relations is named, will receive the Call to Conscience Award. Williams is a 1974 graduate of Stillman who served in the Marine Corps for 40 years, rising to the position of Marine Corps Chief of Staff.
Christopher Gill will receive the Horizon Award. Gill, a military veteran who is pursuing a doctoral degree in educational psychology at UA, has dedicated his life to helping military men and women and his research on those who have transitioned into civilian life is credited with preventing countless suicides.
Tasha Cobbs Leonard will be the featured artist for the 2023 Realizing the Dream Concert Sunday, Jan. 15. The concert will begin at 7:30 p.m. at The University of Alabama Moody Music Building Concert Hall.
Cobbs Leonard is a Georgia-based gospel singer, songwriter and minister who broke out in 2013 with the single "Break Every Chain," which won a Grammy Award. Growing up in Jesup, Georgia, she began her career leading worship at the church founded by her father, Rev. Fritz Cobbs.
Realizing the Dream partner Tuscaloosa SCLC will sponsor Unity Day activities beginning at 7 a.m., Monday, Jan. 16, with the Unity Breakfast at Beulah Baptist Church. The Unity Day will begin at noon from the Martin Luther King Jr. Elementary School. The annual Mass Rally will begin at 5 p.m. at First African Baptist Church. The Mass Rally speaker will be Dr. Vernon Swift of Elizabeth Baptist Church. All Unity Day activities are free and open to the public.
Additional Realizing the Dream events will take place throughout the year.
Concert tickets are $20. Legacy Banquet tickets are $30 for individuals or $200 for a table of eight. Dress is semiformal. Tickets for both events are available online. For ticketing information, call 205-348-7111 or email community.affairs@ua.edu.
For more information about activities and events, visit the Realizing the Dream website or call 205-348-7405.
Quick Info
Events:
Legacy Awards Banquet, Friday, Jan. 13
Realizing the Dream Concert, Sunday, Jan. 15
Contact:
community.affairs@ua.edu
205-348-7405
Contact
Diane Kennedy-Jackson, Division of Community Affairs, dkkennedy1@ua.edu
The University of Alabama, part of The University of Alabama System, is the state's flagship university. UA shapes a better world through its teaching, research and service. With a global reputation for excellence, UA provides an inclusive, forward-thinking environment and nearly 200 degree programs on a beautiful, student-centered campus. A leader in cutting-edge research, UA advances discovery, creative inquiry and knowledge through more than 30 research centers. As the state's largest higher education institution, UA drives economic growth in Alabama and beyond.