The University of Alabama Board of Trustees approved the appointment of Ryan Bradley as vice president of strategic communications. Bradley has been the interim vice president since February 2020.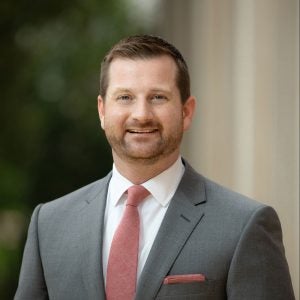 "I am pleased to announce the appointment of Ryan Bradley as the next vice president for strategic communications," said President Stuart R. Bell. "Ryan's leadership has helped guide us through the pandemic and will be invaluable as the University begins the 2021-2022 academic year."
Bradley has worked with The University of Alabama since 2016 as an associate vice president, leading a team of creatives and marketers to tell the University's story and elevate strategic communications and branding.
Prior to joining Alabama, Bradley spent 12 years working as a marketer, communicator and administrator in intercollegiate athletics. He served as the Senior Associate Athletics Director of Strategic Communications at the University of Missouri and the Senior Associate Athletics Director for External Relations at the University of Memphis. In those roles he acted as the athletic department's chief communications officer and spokesperson while also spearheading messaging and branding efforts for the athletic programs.
Bradley began his career with a seven-year stint at Rogers State University in his hometown of Claremore, Okla., where he ascended to the role of Director of Athletics in 2012. He received his bachelor's degree in broadcast journalism from the University of Arkansas and also earned a master's in education administration.
The University of Alabama, part of The University of Alabama System, is the state's flagship university. UA shapes a better world through its teaching, research and service. With a global reputation for excellence, UA provides an inclusive, forward-thinking environment and nearly 200 degree programs on a beautiful, student-centered campus. A leader in cutting-edge research, UA advances discovery, creative inquiry and knowledge through more than 30 research centers. As the state's largest higher education institution, UA drives economic growth in Alabama and beyond.