The Paul W. Bryant Museum recently became a member of University of Alabama Museums, joining a group of several institutions overseen by UA's College of Arts and Sciences.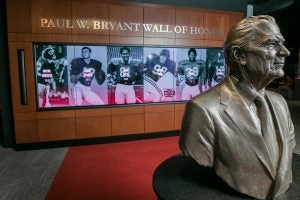 "The administrative move of the Paul W. Bryant Museum to UA Museums makes so much sense," said Dr. Bill Bomar, executive director of UA Museums. "Museums of all types play important roles in connecting people to the past through inspirational and engaging encounters with real objects and specimens. Whether the story being told is centered on ancient Native Americans, Alabama's biodiversity or the rich history of athletics at The University of Alabama, the methods and principles behind the museum informal learning medium and the preservation and management of collections are the same."
The Bryant Museum opened in 1988 and features exhibits, artifacts and memorabilia that celebrate the history and tradition of Crimson Tide football. Thousands visit the museum each year, especially in the fall on UA football game days.
Bomar believes the transition benefits both the Bryant Museum and UA Museums family given that the staffs will be able to collaborate on special projects and large public programs.
"We have central staff whose talents benefit all of our museums," said Bomar. "We also have active working relationships with faculty across campus who utilize our collections for research, often involving students."
The Bryant Museum joins the Alabama Museum of Natural History, Moundville Archaeological Park, Gorgas House Museum, Mildred Westervelt Warner Transportation Museum, Discovering Alabama public television series, Office of Archaeological Research, and Museum Research and Collections under the UA Museums umbrella.
"The Bryant Museum has grown over the years to become a top-notch athletic history museum with outstanding collections and exhibits," said Bomar. "UA Museums has also grown over the years to become a museum system with great disciplinary breadth. We are known for our strong collections in archaeology and paleontology, but we also already operate two history museums, the Gorgas House Museum and the Westervelt Warner Transportation Museum.
"With the addition of the Bryant Museum and their outstanding collections, history is definitely another area of strength for UA Museums."
Contact
Bryant Welbourne, UA Strategic Communications, bryant.welbourne@ua.edu
The University of Alabama, part of The University of Alabama System, is the state's flagship university. UA shapes a better world through its teaching, research and service. With a global reputation for excellence, UA provides an inclusive, forward-thinking environment and nearly 200 degree programs on a beautiful, student-centered campus. A leader in cutting-edge research, UA advances discovery, creative inquiry and knowledge through more than 30 research centers. As the state's largest higher education institution, UA drives economic growth in Alabama and beyond.