Attending The University of Alabama is a proud family tradition for many who follow in the footsteps of generations of UA alumni who came before them.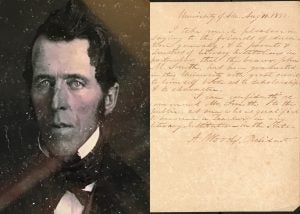 In the case of Carlisle Washburne, an Honors College student majoring in biology with a double minor in psychology and global and cultural perspectives from Hattiesburg, Mississippi, her walk across the stage May 1 in Coleman Coliseum will be the continuation of a legacy that started in 1834.
Washburne is the great, great, great, great granddaughter of John McLaughlin Smith who was among the first students to graduate from UA.
"When I decided to come to Alabama, my grandmother told me I had an old, old relative who was part of one of the first classes to graduate from The University of Alabama," said Washburne. "I was a little skeptical at first given my family's connections in Mississippi and Louisiana and the schools in those states.
"But recently as my time at UA was coming to a close, my grandmother and her sister were going through various belongings that had been passed down through the generations and sure enough, they found his diploma."
According to University records, Smith was born in 1812 and came to UA from Leighton, a small community in northwest Alabama. He earned a Bachelor of Arts in 1834 and Master of Arts in 1837. During his time at UA, he served as a chemistry and math tutor.
After leaving Tuscaloosa, Smith resided in Artesia, Mississippi. He served as a representative in the General Assembly of Mississippi from 1859 to 1861 and was also a member of the Board of Supervisors of Lowndes County, Mississippi. According to his family, Smith died in 1885.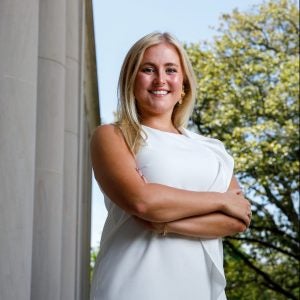 Fast forward nearly two centuries after Smith's time at UA, Washburne decided to blaze her own trail at the Capstone and break the drought of close family members who didn't attend UA.
"It's funny but none of my close relatives went to UA," said Washburne. "My mom went to Ole Miss and my sister will be going there this fall. My dad attended Louisiana Tech and my grandparents, uncles and aunts went to LSU and Mississippi State. So, you could say we're all over the place.
"They have a hard time cheering on the Tide during football season but it's all in good fun and they've been so supportive during my time in Tuscaloosa."
Washburne chose the University to seize the chance of leaving home for a few years and the great opportunities UA offers. Needless to say, she has taken full advantage of her opportunities.
During her time at the Capstone, Washburne has served on the executive board of Alpha Chi Omega as vice president of intellectual development and has been inducted into several honors societies including Phi Beta Kappa, Anderson Society, Mortar Board, Blue Key and Omicron Delta Kappa.
In addition, she served as an intern in the Honors College's recruitment office and currently serves as president of the Honors College Ambassadors.
"I love being able to share my experience with prospective students every day…It's been so fun to see new students realize that they can make this campus home just like I have."
As a researcher, Washburne completed a study on eating disorder content and its propagation via several social media platforms through the Emerging Scholars program. Her work earned her a Randall Outstanding Research Award.
Although Washburne has created her own mark at UA, she coincidentally followed a similar path as her ancestor through her own coursework.
"In pursuing my biology degree, I have spent much time studying, laughing and crying in Shelby Hall doing everything from physics to organic chemistry to biochemistry and all the labs that go with those," said Washburne. "I'd like to think I've paid some tribute to my great x4 grandfather through all the time I've spent applying math and chemistry to my own studies."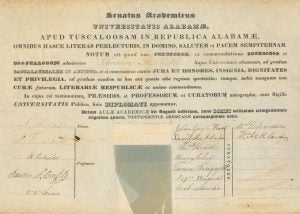 After graduation, Washburne will move to New Orleans to attend the Tulane University School of Medicine where she will start a dual degree program to work on a Master's in Public Health in health systems management and Doctor of Medicine.
"In getting my MPH in addition to my MD, I hope to pursue a career as a senior manager or executive in the health policy arena," said Washburne. "I would like to act as a consulting physician in public and legislative affairs."
To help celebrate all of Washburne's achievements and link two very distant generations of UA alumni, her family will give Carlisle a framed copy of Smith's diploma from 1834, which the family recently donated to UA Special Collections, as a graduation gift.
"My grandmother was right all along, and now having a token of my family history as I part ways with Tuscaloosa is the sweetest thing to share," said Washburne.
As Washburne's journey at UA comes to an end, she will leave the Capstone with fond memories and experiences that will propel her to the next chapter of her life.
"I have been stretched and molded as a leader and a learner," said Washburne. "I am so thankful for all of my mentors, advisors, sorority sisters and fellow students for always supporting me and pushing me to be my best self. The community here in Tuscaloosa has provided me with a safety net to try new things, figure out who I want to be and what I like to do, all while knowing that I will be loved and welcome no matter what.
"I am leaving Tuscaloosa as a better student, leader and friend, and I think that is the best gift I could have received after deciding to say, 'Roll Tide,' four years ago."
Read more stories about the spring class of 2021 on the UA News Center.