This month 26 students from a wide spectrum of departments were honored as leaders among undergraduate researchers at the Capstone through the Randall Outstanding Undergraduate Research Award Program.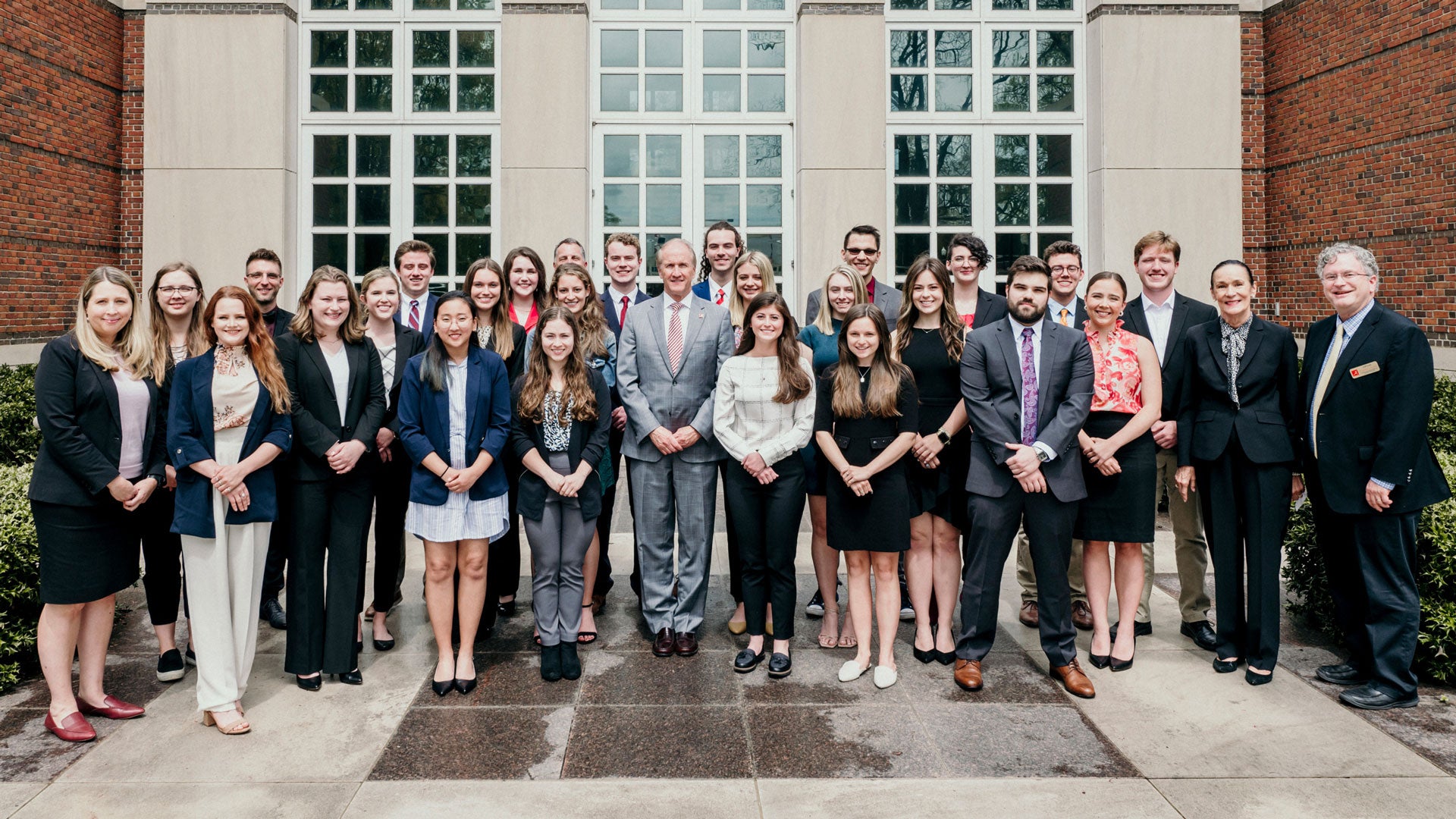 The 2022 Randall Outstanding Undergraduate Research Award recipients with President Stuart R. Bell, Dr. Cathy Randall, Honors College Dean Dr. Tara Williams, Vice President for Research and Economic Development Dr. Russell Mumper and Dr. Jeff Gray, Randall Research Scholars Director.
The honorees have all conducted significant scholarly research and were nominated by faculty and staff research directors. A distinguished panel of UA research faculty and past recipients of the Burnum Distinguished Faculty Award selected the winners, who were honored at a luncheon. 
Abigail Foes received the H. Pettus Randall Jr. Endowed Scholarship for her senior year. The scholarship is awarded to the highest vote recipient who is a junior in the Randall Research Scholars Program. 
The Randall Outstanding Undergraduate Research Award Program was created in 1997 by the Randall Publishing Co. and the H. Pettus Randall III family in memory of Henry Pettus Randall Jr., a distinguished UA alumnus and creator of Who's Who Among Students in American Universities and Colleges. 
2022 Winners 
Hannah Berry, Shreveport, Louisiana, Biology 
Claire Brewer, Westlake, Ohio, Chemistry 
Mat Cieśla, Northport, Alabama, Psycholinguistics 
Maici Craig, Carl Junction, Missouri, Biology 
Abigail Foes, Loves Park, Illinois, Chemistry and Mathematics 
Jacob Glidewell, Trussville, Alabama, Mathematics 
Caroline Goodman, Corning, Arkansas, Biology 
Ethan Hurst, Piperton, Tennessee, Mathematics 
Taylor Kelley, Northport, Alabama, Biology 
Brian Kent, Marietta, Georgia, Chemistry/Physics 
Meredith Kent, Brandon, Mississippi, English 
Candice Keogh, Tuscaloosa, Alabama, Integrative Biomedical Neuroscience 
Brian Kmiecik, St Charles, Illinois , Biology 
Alexander Lindenfelser, Normal, Illinois, Political Science 
Julia Mamana, Burtonsville, Maryland, Biology 
Luke McKay, Canyon, Texas, Biology 
Emmily Mobley, Mount Holly, North Carolina, Anthropology 
Alecsander Mshar, Crown Point, Indiana, Electrical Engineering 
Faith, Oldham, Bentonville, Arkansas, History, Biology 
Kylie Peter, Quincy, Illinois, Biology and Spanish 
Jean Ryu, Mercer Island, Washington, Biology, Anthropology 
Alexandra Sabrio, New Orleans, Louisiana, Mathematics 
Nick Scudder, San Diego, California, Chemical Engineering 
Anna Stevenson, Tall Timbers, Maryland, Mechanical Engineering 
Grace Thompson, Mobile, Alabama, Chemical & Biological Engineering 
Savannah Walker, Madison, Alabama, Chemistry 
The University of Alabama, part of The University of Alabama System, is the state's flagship university. UA shapes a better world through its teaching, research and service. With a global reputation for excellence, UA provides an inclusive, forward-thinking environment and nearly 200 degree programs on a beautiful, student-centered campus. A leader in cutting-edge research, UA advances discovery, creative inquiry and knowledge through more than 30 research centers. As the state's largest higher education institution, UA drives economic growth in Alabama and beyond.