A desire to help others is the foundation of a person's pursuit of a career in the medical field. For Dr. Pamela Payne-Foster, this core value and drive to be an advocate for those in difficult medical situations, especially women of color, have helped forge her nearly 30 years in health care.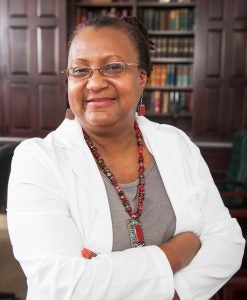 "I consider myself a scholar in academia, but I also have a side of me that's an activist and advocate," said Payne-Foster. "I'm always looking for chances to advocate for those who don't have a voice. I also look for opportunities to advance women's equity issues."
Payne-Foster, a preventative medicine/public health physician and professor of community medicine and population health with UA's College of Community Health Sciences, is in her 14th year at UA after stops in Atlanta, Washington D.C., New York City and Tuskegee. Her research interests include health disparities, including HIV/AIDS, obesity and diabetes; bioethics and medical ethics; and diversity and cultural competency issues in health care.
One area that Payne-Foster has focused on is opioid misuse in pregnant women, currently serving as chair of the education subcommittee with the Alabama Perinatal Quality Collaborative's Neonatal Opioid Withdrawal Syndrome initiative.
"The initiative has several committees that work to provide a standard of care for women who are using opioids while pregnant," said Payne-Foster. "First, we want to demystify the stigma that pregnant women who find themselves in this situation should be criminalized. Many of these women won't tell their doctor they're on opioids in fear of being jailed or separated from their child after the baby is born.
"We want these women to be open about their issues so health care providers can give the best treatments available to the mother and child."
"I'm always looking for chances to advocate for those who don't have a voice. I also look for opportunities to advance women's equity issues."
Under Payne-Foster's leadership, the education subcommittee has worked for the past two years to provide information about the topic to numerous stakeholders who play a role when dealing with the issue, including health care providers, law enforcement and criminal justice professionals.
"This area is so interesting to me because it combines health, politics and legal issues," said Payne-Foster. "It brings together so many stakeholders to work on this topic and move towards a positive outcome."
According to the Alabama Perinatal Quality Collaborative, the organization aims to reduce variation in treatment and optimize the care of infants with Neonatal Opioid Withdrawal Syndrome through compassionate withdrawal treatment, with the goal of optimizing nonpharmacologic management, pharmacologic management and providing a safe discharge for these infants and mothers.
Payne-Foster was recently honored with the 2020 Linda Mays Volunteer of the Year Award for her work with the Alabama Office of Women's Health, part of the Alabama Department of Public Health.
"It was a pleasure to receive the award," said Payne-Foster. "It was a complete surprise, and it feels wonderful to be recognized for your work."
As her career continues, Payne-Foster says she will continue to strive to lend a helping hand to those who are underserved or misunderstood when dealing with various health issues.
"As an African American woman, I'm always going to look for ways to advance gender and racial equity," said Payne-Foster. "I'll always have a strong connection to those who need care but might not be recognized or heard due to circumstances they can't control."