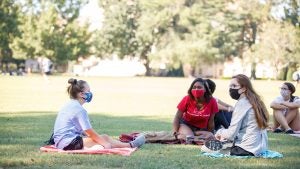 This weekend, UA students will enjoy a three-day break, with a mid-semester, wellness/study day off on Monday, March 15.
While there are plenty of ways to have fun in three days, here are three ways students can make the most of the long weekend ahead.
Rest
Try to take some time to truly rest. This has been a stressful year, and one of the simplest ways to combat stress is to take care of the body, mind and thoughts, according to Dr. Sha-Rhonda M. Green, an assistant professor of social work at UA. Try these tips to slow down and rest.
Sleep — It's no secret that many college students do not get enough sleep. Here's the chance to get some extra ZZZs. Check out this list of practices conducive to good sleep.
Relax — The weather this weekend will be just right for getting outside. Put a blanket on the Quad and enjoy the sun. Take a walk and let the brain take a break. Participate in a virtual yoga class (check out UREC's website for offered classes). Or find a quiet place and meditate.
Color — It's an activity with the perfect mix of fun, calm and relaxation, and it's even believed to reduce anxiety and stress. Download these UA coloring pages and color away.
Catch up
It's likely that most students won't want to spend the entire weekend studying, but it may be a good idea to set aside some time to catch up on schoolwork, or even get ahead. The end of the semester is quickly approaching, and this is a great opportunity to dedicate some time to focus on school.
Use these time management tips to be more productive and focus on the things that matter.
There may be other things to catch up on, too. Netflix shows, laundry, shopping…this is a great opportunity for all of those and more.
Explore
Three day weekends are the perfect time for day trips. Luckily, there is plenty to explore right in UA's backyard. Here are a few favorites.
Also consider starting the weekend with movie night at the Ferguson Center Theater, trying a new restaurant in town, or giving back some of that free time by volunteering (check the UA Center for Service and Leadership website to see what volunteer opportunities are available).
The University of Alabama, part of The University of Alabama System, is the state's flagship university. UA shapes a better world through its teaching, research and service. With a global reputation for excellence, UA provides an inclusive, forward-thinking environment and nearly 200 degree programs on a beautiful, student-centered campus. A leader in cutting-edge research, UA advances discovery, creative inquiry and knowledge through more than 30 research centers. As the state's largest higher education institution, UA drives economic growth in Alabama and beyond.