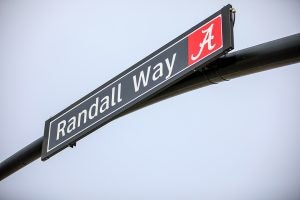 In recognition of Pettus and Cathy Randall's substantial generosity and longtime commitment to The University of Alabama, along with their noteworthy civic engagement, North Campus Way was renamed Randall Way by The University of Alabama System Board of Trustees Friday, Feb. 5.
"Although taken from us too soon, Pettus Randall had a significant and enduring impact on Tuscaloosa and The University of Alabama throughout his life," said UA President Stuart R. Bell. "Cathy continues to extend the legacy of the Randall family as a positive influence and one of Alabama's most distinguished civic leaders. We are incredibly fortunate to claim them both as alumni and supporters, and we are proud to name this prominent street in their honor."
For Cathy Randall, Randall Way is not just the name of the street. It is a way of life for her and her three children, Jaynie Randall Lilley, Kate Randall Danella and H. Pettus Randall IV. As the inspirational president of Randall Publishing and a role model for all, Pettus Randall III used what he called the Randall Way to stress the importance of character and integrity.
"One of the greatest gifts that Randall Publishing Company gave to the Tuscaloosa community was the Character First Program," Cathy Randall said. "In collaboration with the Character Council housed at the company, the city of Tuscaloosa adopted a character first approach. We were told that it was in the fire department, the police department, city hall, everywhere."
When Pettus Randall III, a two-time alumnus of The University of Alabama, passed away in 2002, Cathy Randall said it was her mission to preserve her husband's legacy.
"In my opinion, he was an extraordinary man who still had so much left to give, who would have been recognized in extraordinary ways had he been given longer to live," she said. "My passion over these last 20 years has been to preserve his legacy, built upon his philosophy about what a powerful difference we can make in the lives of others by living lives of character, integrity and generosity."
In addition to countless acts of service to the Tuscaloosa community, the Randall family has given several charitable gifts to The University of Alabama and made a lasting mark on the Capstone.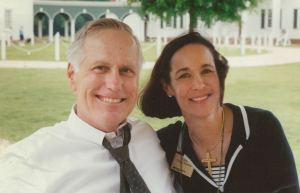 Cathy Randall's contributions to UA are numerous. She earned her bachelor's degree, two master's degrees and two doctoral degrees from UA, and she has served the Capstone in various capacities throughout her career, including 25 years as director of the Computer-Based Honors Program. That program now bears her name as the Catherine J. Randall Research Scholars Program, a nationally recognized undergraduate research program that pairs students majoring in any field with professors to apply computer-based research to their projects.
She was a campaign cabinet member and an important donor to the Campaign for the Performing Arts, which raised $15 million that will help build the new Performing Arts Academic Center.
"Giving to UA was an opportunity that I think Pettus really would have liked. But there are lots of places to give," Cathy Randall said. "So, why The University of Alabama? Because The University of Alabama has given us so much."
The name change is effective immediately. Road signs on campus and on Jack Warner Parkway have been updated to reflect the new name.