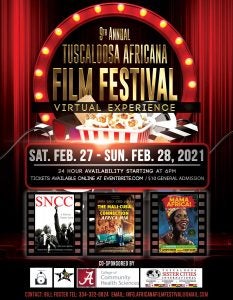 TUSCALOOSA, Ala. – The 9th annual Tuscaloosa Africana Film Festival featuring acclaimed movies from the African continent and broader African Diaspora will be held virtually Feb. 27- 28.
Films will be available online starting at 6 p.m. Feb. 27. Participants can join anytime during the 24-hour viewing period.
The film festival is presented by the Edward A. Ulzen Memorial Foundation and Afram South Inc., two non-profit organizations supporting education and public health initiatives in Ghana, West Africa, and West Alabama, respectively. The festival is also co-sponsored by The University of Alabama College of Community Health Sciences and Tuscaloosa Sister Cities Commission. Tuscaloosa is a sister city of Sunyani-Techiman in Ghana.
This year's films include SNCC 2020, Mama Africa and The Mali-Cuba Connection/Africa MIA.
SNCC 2020 is a new film by Danny Lyon that brings together hundreds of black-and-white photographs taken by Lyon during the years he worked as the staff photographer for the Student Nonviolent Coordinating Committee, or SNCC. The images are layered with archival audio recordings of speeches by and conversations with the late U.S. Rep. John Lewis, a civil rights activist and chairman of SNCC from 1963 to 1966, and Julian Bond, a leader in the Civil Rights movement who helped establish the SNCC, among others. The film also features songs recorded in churches and meetings in Atlanta in the 1960s.
Mama Africa is a documentary that traces 50 years of the music and performances of Miriam Makeba, one of the first African musicians who won international acclaim and whose music was anchored in her traditional South African roots. Although forced into exile in 1959, Makeba sang for the late U.S. President John F. Kennedy, performed with Harry Belafonte and later was married to Stokely Carmichael, a Civil Rights activist. She fervently opposed apartheid, and she died in 2008 after a concert in Italy. The documentary includes rare archive footage of her performances as well as interviews with her contemporaries.
The Mali-Cuba Connection/Africa MIA follows 10 young promising musicians from Mali sent to Cuba in 1964 to study music and strengthen cultural links between the two socialist countries. Combining Malian and Afro-Cuban influences, the musicians develop a revolutionary new sound and become the iconic ensemble "Las Maravillas de Mali."
Tickets for the Tuscaloosa Africana Film Festival are $10 and available online at www.eventbrite.com.
For more information, contact Bill Foster at (334) 322-0824, Thad Ulzen at (205) 561-7000 or email info.africanafilmfestival@gmail.com
Source
Bryant Welbourne, UA communications, bryant.welbourne@ua.edu
Contact
Leslie Zganjar, UA College of Community Health Sciences, lzganjar@ua.edu
The University of Alabama, part of The University of Alabama System, is the state's flagship university. UA shapes a better world through its teaching, research and service. With a global reputation for excellence, UA provides an inclusive, forward-thinking environment and nearly 200 degree programs on a beautiful, student-centered campus. A leader in cutting-edge research, UA advances discovery, creative inquiry and knowledge through more than 30 research centers. As the state's largest higher education institution, UA drives economic growth in Alabama and beyond.