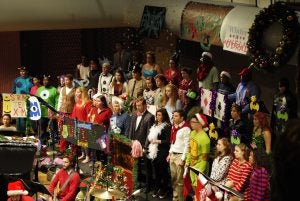 TUSCALOOSA, Ala.  — While The University of Alabama School of Music is unable to host its annual "Hilaritas" concert due to the COVID-19 pandemic, fans will still be able to enjoy the holiday sounds on UA Info Radio.
"For a lot of people in the community, the holiday season doesn't start until they see 'Hilaritas,'" said Christopher Kozak, associate professor of music and director of jazz studies. "While we can't provide a live performance this year due to the pandemic, by partnering with UA Info Radio, we are still able to provide holiday cheer to our community."
The program will include such holiday selections as "It's the Most Wonderful Time of the Year," "Feliz Navidad" and "Do You Hear What I Hear?" alongside songs from the films "A Charlie Brown Christmas " and "Dr. Seuss' How the Grinch Stole Christmas."
"Hilaritas" is one of the longest running performance traditions at the School of Music. A past concert will air in its entirety on UA Info Radio Thursday, Dec. 10, at 6 p.m. Encore presentations will air Sunday, Dec.13, at noon; Saturday, Dec. 19, at 2 p.m.; Sunday Dec. 20, at 6 p.m.; Wednesday, Dec. 23, at 7 p.m.; Thursday, Dec. 24, at 7 p.m.; and Friday, Dec. 25, at noon and 6 p.m. The concert can be heard on 92.5 FM in Tuscaloosa or streamed on the UA Info Radio website.