By Bryant Welbourne
Along with his UA degrees, Lee Johnson III's passion for educating young children has taken him from teaching music to proposing early childhood education policies at the national level.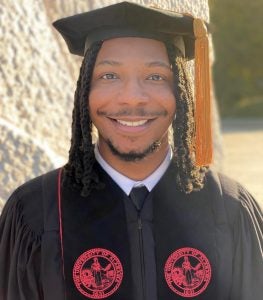 This month Johnson receives his doctorate in health education and promotion — his third degree from UA. But before he made his mark on state and national policy making, music was the bridge to his true calling.
As a student at Shelton State Community College, he participated in Bach to Rock, a vocal performance ensemble that brings music education to local elementary schools.
"I developed a love for connecting with and educating children," said Johnson. "Once I finished at Shelton State and transitioned to The University of Alabama, my love for early childhood education grew…I thought it amazing how music impacted children, although I realized there is more to interacting with children in the classroom that aids in their development."
Johnson switched his major from music to early childhood education and went on to earn his master's in health education and promotion from the College of Human Environmental Sciences. While completing his coursework, Johnson worked as an educator at UA's Child Development Research Center, Arts' N Autism in Tuscaloosa, and the Vogel Alcove Child Center for the Homeless in Dallas, Texas.
"I give much credit to the UA human development and family studies faculty, namely Dr. Maria Hernandez-Reif, who opened my eyes to the career possibilities in early childhood education," said Johnson. "I first thought I could only impact classrooms through music. However, I now know my purpose expands beyond the classroom in fortifying a foundation of success for generations to come."
In beginning his doctorate in public health under the leadership of Drs. Angelia Paschal and Wanda Burton, Johnson built upon his foundation in early childhood education by deepening his health policy knowledge.
"I first thought I could only impact classrooms through music. However, I now know my purpose expands beyond the classroom in fortifying a foundation of success for generations to come."
Serving as director for the Office of Early Learning at the Alabama Department of Early Childhood Education and later as the first director of First 5 Alabama, Alabama's Association for Infant and Early Childhood Mental Health, Johnson was at the forefront of shaping early childhood education policies in the state.
One of his proudest accomplishments is contributing to the expansion of Governor Kay Ivey's policy proposal for the 'Strong Families = A Strong Start' initiative.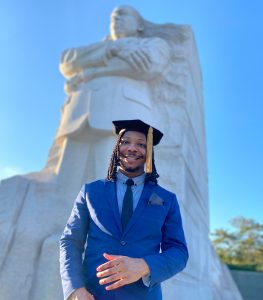 "The initiative placed a focus on pre-K and its significance to the future workforce of Alabama," said Johnson. "I had the opportunity to share with the governor's leadership team that Alabama would benefit from including support for early learning programs delivered to children younger than 4 in the proposal since research shows that a child's brain develops far earlier than pre-K."
Johnson's impact expanded from the state to the national level when he was among six selected for the National Black Child Development Institute's (NBCDI) inaugural policy fellowship cohort. The two-year program allows fellows to incubate new approaches to policies and reform systems to help Black children realize their full potential.
"As a Black man, engaging in research for and about Black boys and men, I consider my selection for this policy fellowship an honor," said Johnson. "I look forward to contributing to the institute's mission of advancing and improving Black children and families' quality of life through education and advocacy."
Upon finishing his doctorate, Johnson, who currently works as a Senior Policy Analyst at ZERO TO THREE, a leading organization on infant-toddler policy and program development, says he plans to deepen his expertise and shape policy positions that prioritize equity and funding support services for the mental health needs of young children.
"Each day is an opportunity for policymakers to advance racial equity, reduce disparities in education and prioritize the health and wellbeing of our children, our neighbor's children, of us all," said Johnson.
Learn more about the Fall 2020 graduating class on UA's commencement page.