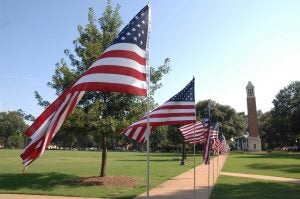 The University of Alabama's Office of Veteran and Military Affairs will join the Tuscaloosa County Park & Recreation Authority's Veterans Memorial Park Association and the Tuscaloosa VA Medical Center to honor veterans at the annual Tuscaloosa Veterans Day Ceremony.
The event, which is free and open to the public, will be held on Wednesday, Nov. 11 at 10 a.m. at Veterans Memorial Park, 1701 McFarland Blvd. E., Tuscaloosa.
The program will be a drive-in only event, with the audio broadcast on 87.9 FM radio for participants parked in the immediate area.
Maj. Gen. William S. Lee, Commanding General, 3D Medical Command, will be the keynote speaker for the event. Additional remarks will be delivered from Col. Duane Lamb, U.S. Air Force, retired and UA's associate vice president of facilities and grounds, and Lt. Col. John Merkle, U.S. Army, retired, and director of the Tuscaloosa VA Medical Center.
The University has over 600 veterans, 400 service members and 2,500 military dependents on campus, with more than 200 faculty and staff who are military veterans as well.
"We have a large military-affiliated population at UA," said Brad Campbell, assistant director of UA's Veteran and Military Affairs. "Especially during this time, we are honored to recognize the sacrifices of the many veterans we have on campus, and to support them in every way we can."
Throughout the pandemic, the office of Veteran and Military Affairs has continued to support UA's veterans through virtual orientations, Q & A sessions, hiring events and meetings, as well as shifting some of its processes to be digital.
For more information, visit UA's Veteran and Military Affairs website, or follow them on social media.
The University of Alabama, part of The University of Alabama System, is the state's flagship university. UA shapes a better world through its teaching, research and service. With a global reputation for excellence, UA provides an inclusive, forward-thinking environment and nearly 200 degree programs on a beautiful, student-centered campus. A leader in cutting-edge research, UA advances discovery, creative inquiry and knowledge through more than 30 research centers. As the state's largest higher education institution, UA drives economic growth in Alabama and beyond.