For the past six years three members of the Carrasquilla family of Bogota, Colombia have carried on two family traditions: attending The University of Alabama and giving to those in need.
In 2014, Tatiana Carrasquilla, a then student of UA, created the "Swipe Away Hunger" program in partnership with Bama Dining.
After she graduated in 2015, the torch of leadership was passed to her younger brother Juan Carrasquilla, who upon graduating in 2017 installed his little sister, Laura Carrasquilla, currently a senior pre-med biology major at UA, as the program's new leader.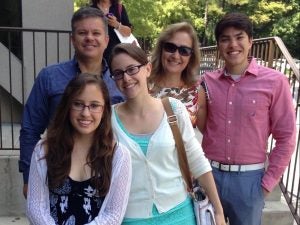 With the aim of reaching 500 meals a year, Swipe Away Hunger asks students to donate their unused guest meal plan meals so they can be made into Thanksgiving meals for those in need in West Alabama.
So far this year, more than 900 swipes have been collected.
"We started collecting student guest meal swipes at the beginning of the semester and it's really exciting that our swipe count has exceeded our expectations," said Laura Carrasquilla. "Unlike Bama Cash and Dining Dollars, student meals don't roll over to the next semester and go to waste if you don't use them.
"My sister Tatiana's idea was to put them to use to do some good, which is why she created this program."
On Nov. 18, Bama Dining staff will load up 500 of the donated meals – typically turkey with gravy, potatoes, yams, green beans and a dessert – into a truck to be transported to the West Alabama Food Bank where they'll be distributed to area churches and other feeding programs. The meal swipes above 500 will be donated to UA's Got Meals? program to help students experiencing financial hardship.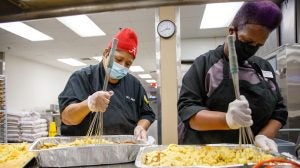 Laura Carrasquilla is a 21-year-old Randall Research Scholar who has always been passionate about medicine and helping her community. She said she's proud of the legacy her family has established at UA and the positive contribution they've made to West Alabama.
None of this would be possible, she said, if it weren't for the giving hearts of UA's students and the hard work of Bama Dining's staff.
"This is really a unique program that enables students to make a real change in their communities," she said. "They get to donate something that would otherwise go to waste and provides people with a real meaningful meal this Thanksgiving."
Contact
Jamon Smith, Strategic Communications, jamon.smith@ua.edu, 205-348-4956
The University of Alabama, part of The University of Alabama System, is the state's flagship university. UA shapes a better world through its teaching, research and service. With a global reputation for excellence, UA provides an inclusive, forward-thinking environment and nearly 200 degree programs on a beautiful, student-centered campus. A leader in cutting-edge research, UA advances discovery, creative inquiry and knowledge through more than 30 research centers. As the state's largest higher education institution, UA drives economic growth in Alabama and beyond.