Need to contact 911 for an emergency? Now you can via text.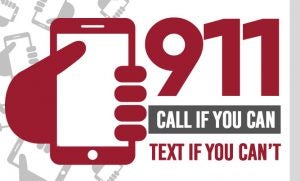 All agencies in the Tuscaloosa County Emergency Communications District, including UA Police Department, Tuscaloosa Police, Tuscaloosa Fire and Rescue, Northport Police and the Tuscaloosa County Sheriff's Office, now have the ability to accept text messages sent to 911. The responding agencies can also reply to text messages after they are received.
Text-to-911 is especially useful for those with hearing or speech difficulties, and in situations when it is not safe to place a voice call to 911.
Tuscaloosa County 911 and UAPD encourage anyone with police, fire or medical emergencies to call 911 if they can. Only use the text-to-911 option in situations where you can't speak to an operator.
When is the next test of the UA Alert System?
Weather permitting, the University will test its emergency notification systems, including UA Alerts, the public address system and digital signage Wednesday, Nov. 4, at 11:55 a.m.
The University of Alabama, the state's oldest and largest public institution of higher education, is a student-centered research university that draws the best and brightest to an academic community committed to providing a premier undergraduate and graduate education. UA is dedicated to achieving excellence in scholarship, collaboration and intellectual engagement; providing public outreach and service to the state of Alabama and the nation; and nurturing a campus environment that fosters collegiality, respect and inclusivity.