Bicycle. Bicycle. Bicycle.
During spring, the weather warms, the flowers bloom and many people take bike rides throughout the UA campus.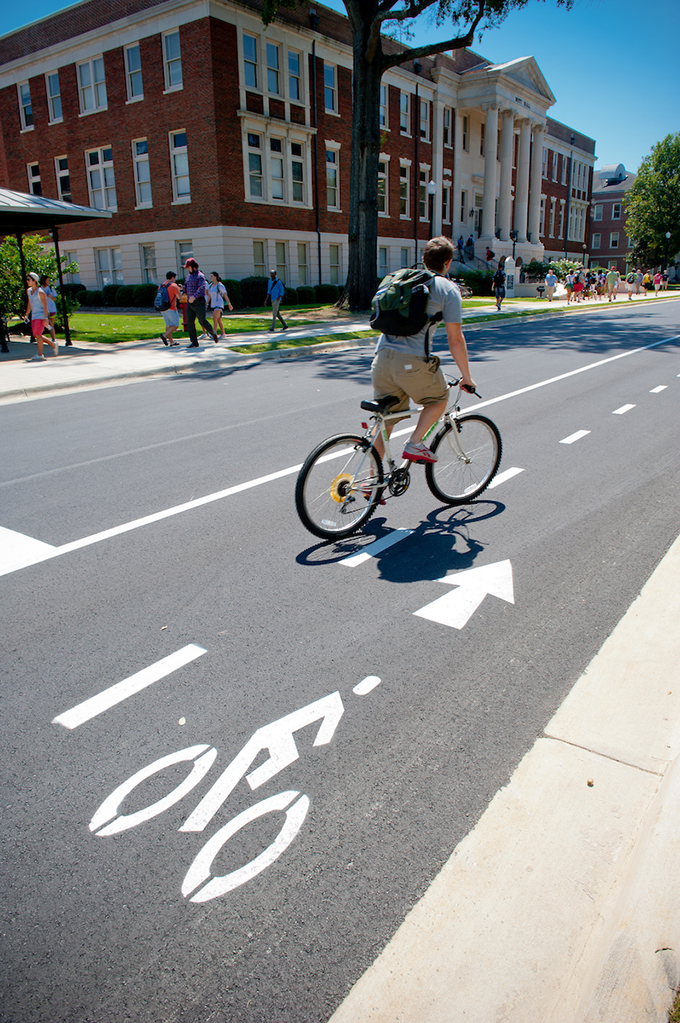 Accidents between pedestrians, bicycles, skateboarders and motor vehicles are a concern for everyone. Accidents can result in injuries and cause damage to property.
Safety is a shared responsibility between everyone. So, whether you're hopping on your own bike or grabbing one of the VEO e-bikes, here are some tips to remember:
Wear a helmet whenever you ride. In Alabama, helmets are required for all cyclists under the age of 16.
Obey the rules of the road. Alabama law requires cyclists to follow the same rules that motor vehicles do. This includes stopping for traffic signals and stop signs.
Use a bike lane when one is available. When riding on a road without a bike lane, always ride as close as possible to the right curb.
Don't ride on sidewalks. Cyclists are not allowed to ride on sidewalks in Tuscaloosa; instead, use a bike lane or ride in the road with the flow of traffic.
Slow down. If you're riding on a path where pedestrians may also be walking, make sure to go slow and to let the pedestrians know you are there.
Walk bicycles through crosswalks.
Don't text and ride.
Ride defensively. Take responsibility for your own safety and don't assume drivers are being attentive to you.
The University has installed green pavement markings in bike lanes at several intersections throughout campus. These green markings help make the bike lanes more visible, thus raising the awareness of motorists that cyclists may be present. They also help reduce conflicts between cyclists and turning motorists.
For more bicycle safety tips, visit the University Recreation's bike safety website.
Safety Reminder: UA Alert System Test
Weather permitting, the University will test its emergency notification systems, including UA Alerts, the public address system and digital signage, Wednesday, April 5, at 11:55 a.m.