Chad Jackson is a contract invoice and analytics specialist at the Bryant Conference Center and president of the Black Faculty and Staff Association, an organization that he's been a part of since joining UA in 2017.
Jackson is also the recipient of the UA National Panhellenic 2022 Breaking Barriers award, which he dedicated to the members, advocates and allies of UA BFSA. The award recognized him for leading the UA BFSA to many first-ever records, next-level programming and campus and community impact.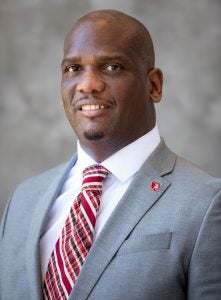 What were some of BFSA's highlights this past academic year?
The previous academic year was a year of expansion for UA BFSA! We experienced increases in our faculty and staff memberships, student groups and campus and corporate sponsors. Through the unrelenting work of our BFSA committees, we exceeded our campus impact, reach and engagement goals, which proved valuable beyond calculation to our UA faculty, staff and underrepresented students.
We had the largest participation in our 2022 Black Scholars Day program, an uptick in participation in all three Nyansapo Kente Robing Ceremonies, increased statewide HBCU participation in the second annual Dr. Trudier Harris Intercollegiate Black History Scholars Bowl and held the first-ever, sold-out UA BFSA Wakanda Scholarship Ball.
Our community service initiative led by our two student groups raised funds for Tuscaloosa Emergency Services by hosting our first-ever UA BFSA Field Day. Participants paid to play intramural games to fund their donations to the cause. We could not have accomplished these goals without the continued support of our Executive Board, BFSA members and our campus and community allies.
We received the 2022 Sybil R. Todd Award for Excellence in Partnerships, named for Dr. Sybil Todd, vice president for Student Affairs from 1998-2003. This annual award is presented to individuals or organizations outside the Division of Student Life who have demonstrated excellence in partnership and whose service to all our constituents is exceptional.
What are some of the BFSA's goals and major projects for the 2022-2023 academic year? 
To expand our reach, work, and partner with University partners to substantially increase the recruitment, retention and promotion of Black faculty and staff.
Institutionalize our newly created programs, expand our standing programs, and look for ways to best serve our members' interests, needs and concerns.
We have created an opportunity for retired UA employees, previous BFSA members, and campus and community allies to support UA BFSA through our tax-deductible Community Patron Portal.
Continue existing faculty, staff and student mentoring programs and continue to develop new programming to increase support for Black students.
We are excited about our UA BFSA Capital Room 255 in Honors College, which will provide a multipurpose space for our BFSA Scholars and BFSA Ambassadors and their friends to build community, host small events and facilitate meetings.
UA BFSA continues to be a campus partner in advancing the UA Strategic Plan: Advancing the Flagship, the Division of Diversity, Equity, and Inclusion's Path Forward report and The UA System's overall diversity initiatives.
We will also host the third annual 2023 Dr. Trudier Harris Intercollegiate Black History Scholars Bowl and the second annual Wakanda Scholarship Ball in February 2023!
How can faculty, staff and students get involved with the BFSA or stay informed?
All of our great events and opportunities to be involved can be found on our website, or engage with UA BFSA by following us on social media and subscribing to our E-Blast, in addition to attending and participating in our meetings and events. We have innovative opportunities and programming that impact professional and personal development, career networking, advocacy for equitable campus experiences, community service, and faculty, staff, and student mentorships.
What was the biggest lesson the BFSA learned from the past year that will continue to make an impact on the association?
UA BFSA must remain relevant, visual and agile in our programming, advocacies, networking and initiatives as we work alongside UA administration, the Division of Diversity, Equity, and Inclusion, and campus partners to "change the narrative," given UA's history. We will continue to build on our campus and community relationships that significantly support the equitable experience of our faculty, staff and students.