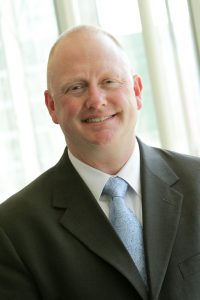 Mike Gremillion, who has led the Global Water Security Center at The University of Alabama for over a year, has been named the interim executive director of the Alabama Water Institute effective Sept. 19.
Gremillion, an experienced weather professional in the military and intelligence communities, has also served as deputy director of the Alabama Water Institute while directing the GWSC
"Mike has been involved on the ground floor of all the major initiatives of AWI over the past two years with a key role in leading the development of AWI's five-year strategic plan and securing input from stakeholders around campus," said Dr. Russell J. Mumper, vice president for research and economic development. "We are very fortunate to have Mike and appreciate his willingness to take this critical leadership role to keep the momentum going."
AWI guides UA's commitment to be a premier research and education institution around water-related issues. AWI's goal is to become a world-class interdisciplinary water research institute that develops pathbreaking, holistic and environmentally friendly solutions to ensure people and ecological systems in its community, state, nation and around the world have access to clean water and are resilient to extreme events.
"I am excited to lead the Alabama Water Institute in this new role," Gremillion said. "My vision is to continue to grow upon the great work started by [AWI Executive Director] Scott Rayder and for the University to become nationally recognized as a top tier water research institution."
His appointment comes after Rayder announced he is moving to a new opportunity outside UA. Earlier this year, Rayder oversaw the expansion of the institute with the largest research grant ever awarded to the University.
"I am indebted to Scott and the tremendous team he has built at UA. Scott led amazing growth at AWI and its many affiliated centers focused on water. We wish him the very best in his exciting new opportunity," said Mumper.
The institute led a consortium to win a competitive five-year $360 million Cooperative Institute award from the National Oceanic and Atmospheric Administration titled, Cooperative Institute for Research to Operations in Hydrology, or CIROH. This was the largest externally sponsored award in UA's history.
In addition, affiliated researchers across campus lead innovative projects related to water that improves society while enhancing the education of UA's students.
Gremillion joined UA in 2020 after more than 27 years of providing scientific leadership and expertise for national security environmental support under the U.S. Department of Defense. His last military assignment was senior meteorology and oceanography officer for National Geospatial-Intelligence Agency.