Tionna Taite began her first year of law school at The University of Alabama only days ago and barely two weeks back from Washington, D.C., where she represented the state of Alabama for the title of Miss Black USA. The UA Honors College alumna and activist is proving the phrase "beauty and brains" is more than just words.
Taite graduated in May with a degree in news media, which worked hand-in-hand with her social initiative — diversifying digital media and elevating marginalized voices.
"While organizations are making steps to be more inclusive and diverse, there is a shortage in digital media that caters specifically to marginalized groups," said Taite, explaining why the initiative is important to her.
"I aspire to educate other institutions on how to create diverse and inclusive digital media that elevates marginalized voices. I also aspire to prove that diversifying digital media benefits people of all backgrounds because it provides education on cultural topics and helps produce socially conscious, ethical and well-rounded citizens."
Taite said competing in pageants was another way she became a more prepared citizen of the world. She started competing in pageants in the fifth grade and continued through high school and college where she competed in the Miss University of Alabama pageant and ultimately on the national level for Miss Black USA.
"I enjoyed the networking and leadership opportunities that pageants offered me. With my title, I have been able to have a public platform, meet public figures, serve as an activist and so much more," she explained. "Pageants provide a unique platform for young women to not only serve as a role model but also for titleholders to enact change in their state and surrounding areas."
Taite's reign as Miss Black Alabama USA, which comes to an end in November, has been a rewarding experience.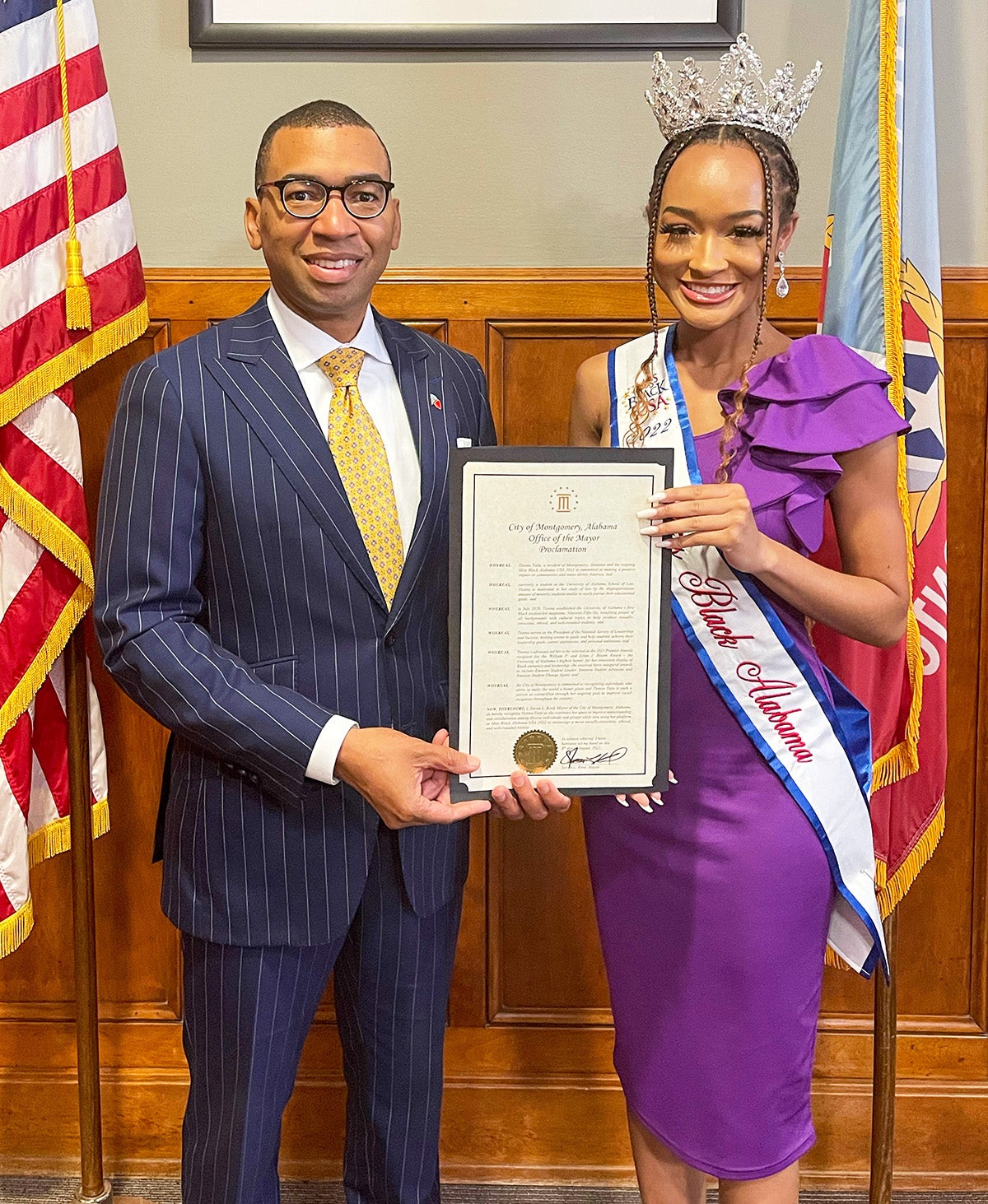 "With my title, I have been able to have a public platform, meet public figures, serve as an activist and so much more."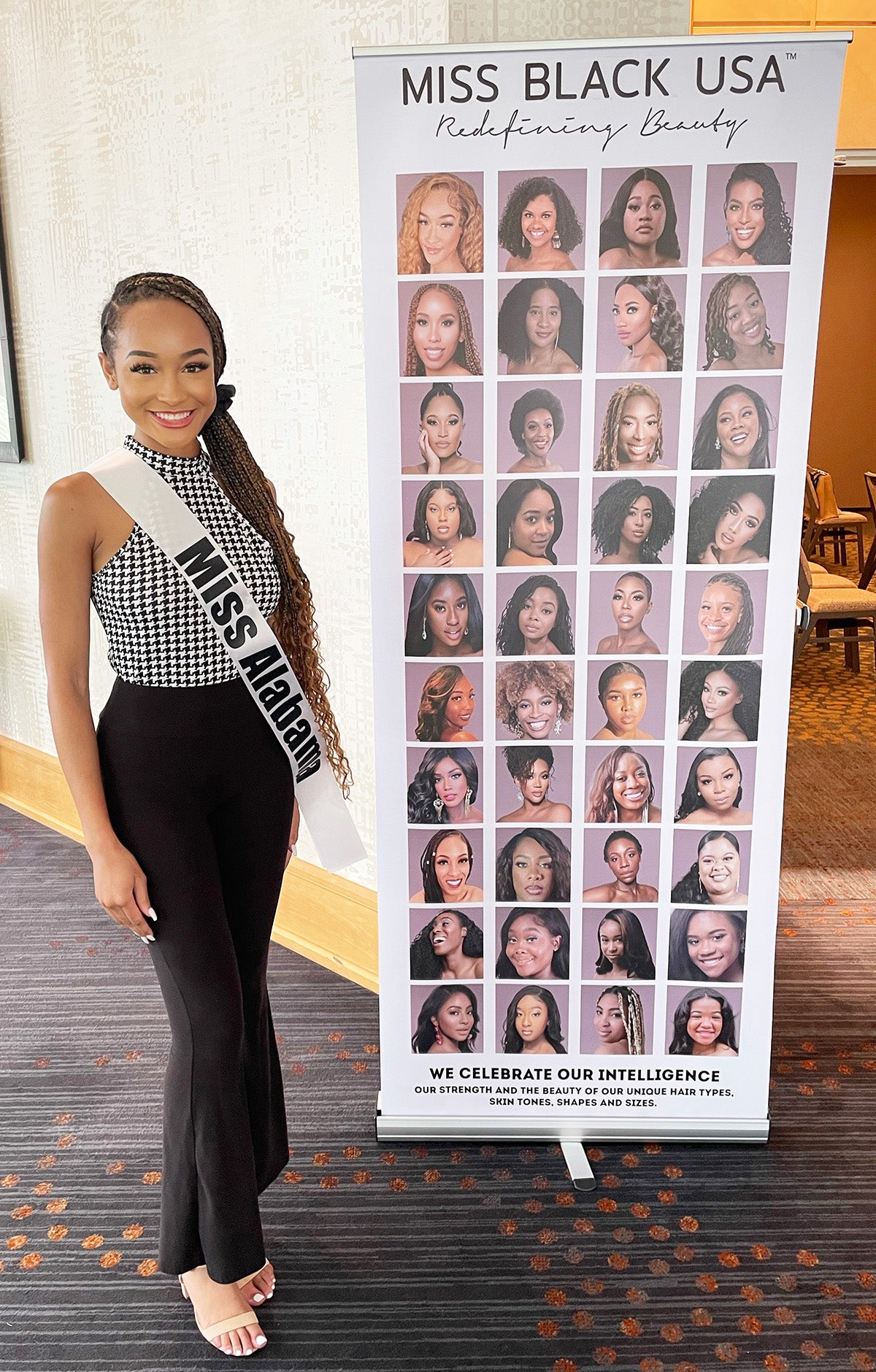 "During my reign, I spoke at the Rosa Parks Day Commemoration Services and performed an original spoken word entitled 'Don't Touch My Hair.' I wrote this piece to serve as a tribute to the cultural significance and history of Afrocentric hairstyles with the goal of educating the audience. This event also gave me the opportunity to personally speak with prominent civil rights activist attorney Fred Gray," she said.
Taite was also invited to i3 Academy in Birmingham where she presented a Disney World trip, made possible by Magic Moments, to a fourth-grade student who had been a victim of gun violence.
She recently received a proclamation from her hometown. Montgomery Mayor Steven Reed recognized her commitment to making a positive impact on communities across the U.S. as well as her reign as Miss Black Alabama USA 2022 and her ongoing goals of improving racial inequities.
As Miss Black Alabama USA, she was interviewed about Nineteen Fifty-Six magazine on "The Journalism Salute," a podcast dedicated to empowering underrepresented groups through journalism. Taite founded Nineteen Fifty-Six, the University's first Black student led magazine, in 2020 and served as its first editor-in-chief.
Taite, who received a full scholarship to attend law school, said she is interested in many areas of law and is excited to figure out what area suits her passions. Even though graduation is still three years away, she already has an idea of what post-law school life could look like.
"After law school, I have many plans. One plan is to open a solo law firm. I will also utilize my legal experience to challenge the laws that create educational barriers for minority students," Taite said. "In addition, I will challenge the systems that allow racial inequities to persist in education, housing and the justice system.
I would like to use my law degree to create lasting change in America and serve as a change agent. While in law school, I will begin to work towards these goals by continuing to serve marginalized groups, networking with leaders and remaining active in my community."