The University of Alabama's Student Government Association received the SGA of the Year award and its Diversity, Equity and Inclusion Certification Program earned the Social Change Initiative recognition at the SEC Exchange held July 15-17 in Columbia, South Carolina.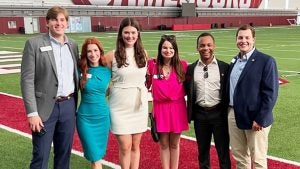 The annual conference brings the SGA executive council members from each Southeastern Conference institution to a host school for three days where students learn about networking and teamwork through activities and workshops, according to SEC Exchange social media.
UA SGA President Madeline Martin said that while both awards are special to SGA, the Social Change Initiative recognition was the bigger honor.
"This work wouldn't be possible without the people before us," she said, adding that SGA was elated to elevate that work. "Demarcus Joiner started the Diversity, Equity and Inclusion Certification program in 2020 and since then we've had over 12% of the student population sign up for it."
Martin explained there is also a strong level of accountability to UA's DEI Certification program that was ingrained in its creation.
"Applicants have to attend four out of six major events across campus and actively participate," she said. "It's not just about sharing our stories but amplifying all stories of the outstanding organizations on our campus."
SGA also has a DEI Advanced Certification that approximately 200 students have already applied for, Martin said.
UA earned the SGA of the Year award for its many campus- and community-wide efforts. Some of those include a food tour where students can get a punch card that is used at area restaurants. Once they fill out their card they can bring it to the SGA offices and receive a small gift card, typically to another restaurant.
Another example is the Turning Tide program, a partnership with rising ninth-grade students at Holt High School where SGA members address topics related to taking the next steps after high school, including financial aid forms, standardized testing, work study and even military options for students whose plans don't include college. Martin said an SGA-wide newsletter is also being implemented.
"This award just shows the tenacity of our group," said Martin. "Some schools don't have a student food pantry and we do. We're even getting to have Get on Board Day again after COVID."
"All of these programs are just examples of how we can grow UA campuswide and within the community. We have the mindset that a need might be met, but we can do more."
Contact
Jennifer Brady, UA Strategic Communications, jennifer.brady@ua.edu
The University of Alabama, part of The University of Alabama System, is the state's flagship university. UA shapes a better world through its teaching, research and service. With a global reputation for excellence, UA provides an inclusive, forward-thinking environment and nearly 200 degree programs on a beautiful, student-centered campus. A leader in cutting-edge research, UA advances discovery, creative inquiry and knowledge through more than 30 research centers. As the state's largest higher education institution, UA drives economic growth in Alabama and beyond.