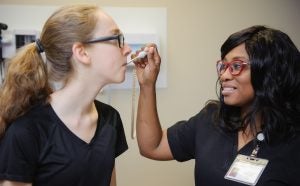 TUSCALOOSA, Ala. — University Medical Center opened a clinic in Livingston July 25 that will provide primary health care services to the Sumter County community.
UMC is operated by The University of Alabama College of Community Health Sciences.
Dr. Richard Friend, dean of the UA College of Community Health Sciences, said access to primary health care services is important, especially for rural communities in the state, where such care can sometimes be hard to find.
"Our mission at UMC is to help improve the health of individuals and communities in rural Alabama, and expanding access to care in Livingston, particularly in primary health care, is one way we are meeting that mission," Friend said.
Livingston Mayor Thomas Tartt said the city looks forward to the health care the clinic will provide to its citizens, adding the city's population is starting to increase and the University of West Alabama, located in Livingston, is set to grow exponentially over the next few years.
"We are very excited to have University Medical Center in our community to provide expanded health care opportunities in Livingston, for the university and for the entire county," Tartt said. "Any time you can offer more choices and places to receive medical services, it's always a plus."
UMC is the largest multispecialty medical practice in West Alabama with locations in Tuscaloosa, Northport, Demopolis, Fayette, Carrollton and now Livingston, and with more than 150,000 annual patient visits.
UMC-Livingston is open Monday through Friday, from 8:30 a.m. to 5 p.m. The clinic, located at 711 North Washington St., will provide family medicine care for individuals and families.
New patients are welcome at UMC-Livingston. To schedule an appointment, call 205-348-4055. More information about the clinic can be found on the UMC-Livingston website.
Contact
Leslie Zganjar, UA College of Community Health Sciences, lzganjar@ua.edu, 205-348-3079
The University of Alabama, part of The University of Alabama System, is the state's flagship university. UA shapes a better world through its teaching, research and service. With a global reputation for excellence, UA provides an inclusive, forward-thinking environment and nearly 200 degree programs on a beautiful, student-centered campus. A leader in cutting-edge research, UA advances discovery, creative inquiry and knowledge through more than 30 research centers. As the state's largest higher education institution, UA drives economic growth in Alabama and beyond.