The University of Alabama is set to demolish the old Tutwiler Hall on July 4 — a date usually associated with celebration. It'll be a bittersweet day, though, for many of the more than 50,000 women who called Tutwiler home at some point during their time at the Capstone.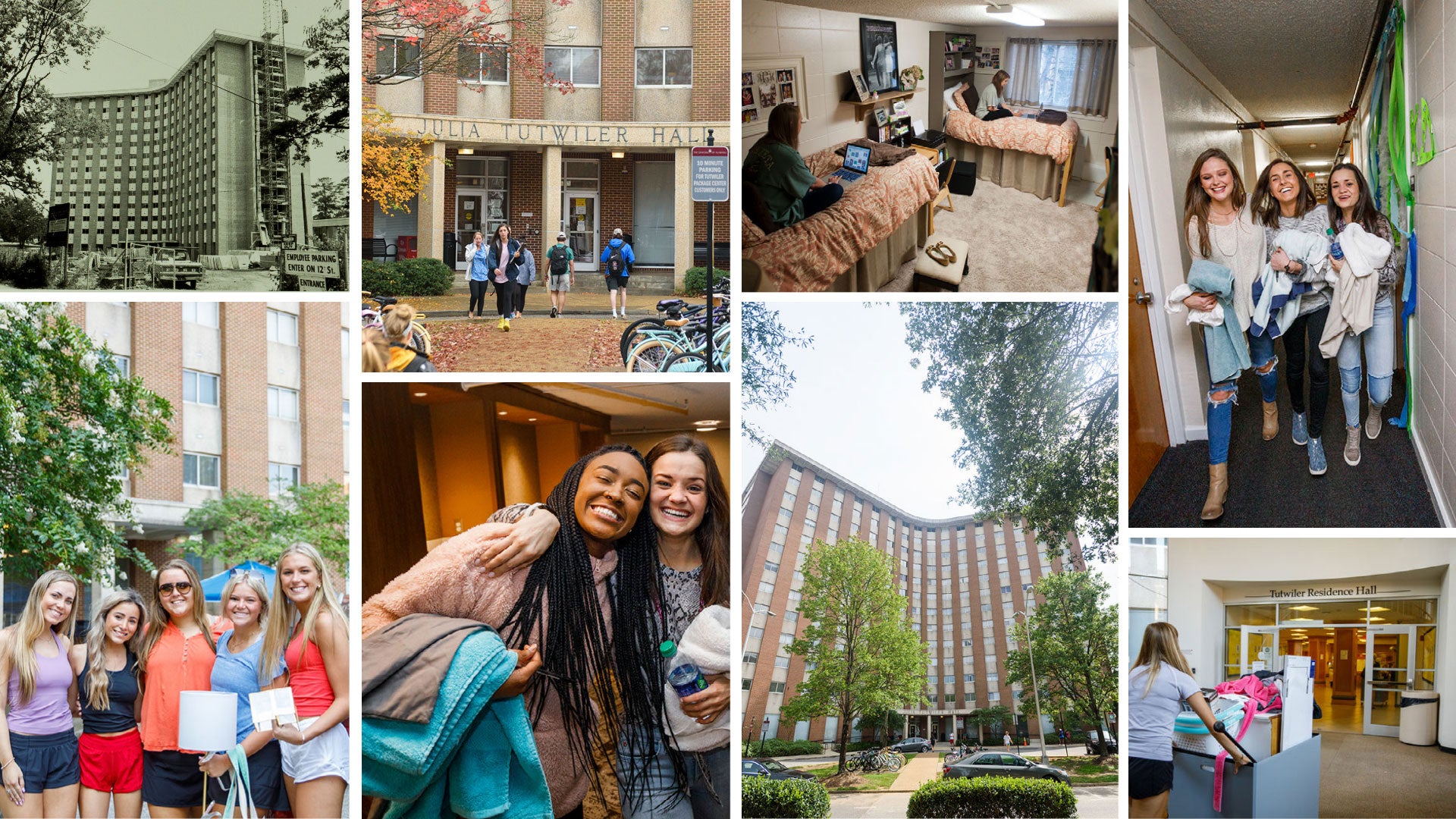 Looking Back to Forge Ahead
Tutwiler Hall will always hold legendary status to former residents from all over the world because of the lasting memories it fostered. Since the first residents moved into this second iteration of the dormitory in 1968 (The first was built in 1914 where Rose Administration Building currently sits.), its halls have become full of stories of friendship and growth, first loves and first heartbreaks, energetic Crimson Tide game days and weathering storms, both literally and figuratively.
Through a Student Life questionnaire, former residents recently shared their memories from Tutwiler. They shared stories of how they found safety within its walls during Hurricane Katrina and the April 27, 2011, tornado; how they found acceptance among their classmates who were just like them — young women far from home and hoping to find a peer family at UA; and how they made lifelong connections.
If walls could talk, who knows what Tutwiler's would reveal? Fortunately, when those walls come down, they won't take every story with them. Below are a few Tutwiler memories shared by some of its former residents:
"I lived on the 14th floor with a group of wonderful girls from all over the U.S. We learned to love, share, help, support, argue and forgive. I am 68 years old now…STILL have contact with all of those wonderful gals. It IS true…college friends are lifelong friends. What a fabulous time spent at this terrific dorm. All freshmen should begin their collegiate time in a dorm. Good for the soul!"

Diana (Bruno) Mahan, resident from 1972-1973
Hometown: Gadsden, Alabama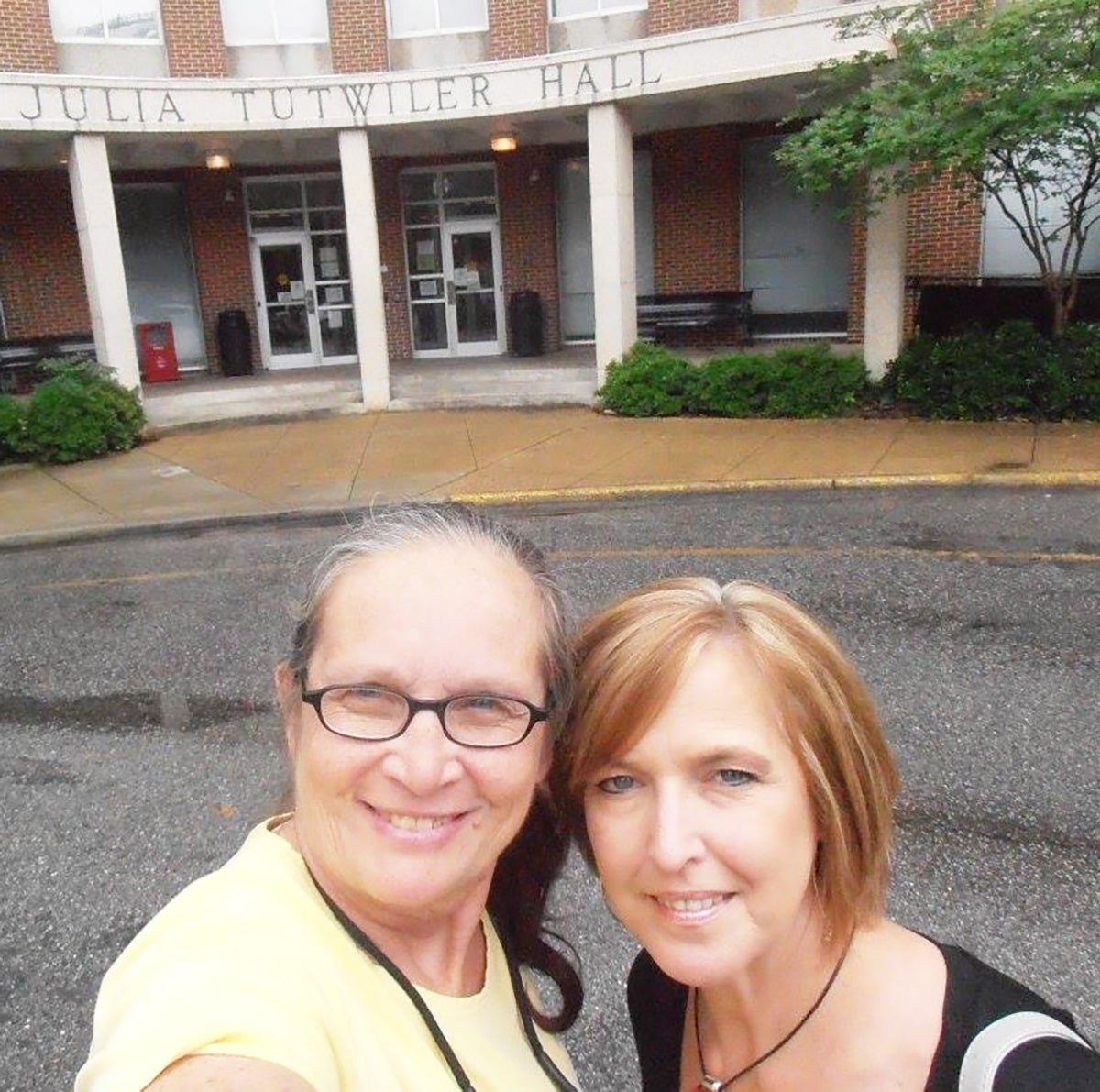 Carol Diegel (left) and her best friend and fellow UA alumnae, Ann Carl Bruner, in front of Tutwiler Hall in 2015.
"I met my four lifelong best friends on the fourth floor of Tutwiler during my freshman year at UA in 1976. The memories made within those walls are still fresh in my mind to this day. We all still come back to campus together, and we always take our photos in front of the entrance. When my daughter and I were touring the campus in 2016, during our tour of Tutwiler, I was able to show her my room and the rooms of my friends. One of the residents of my old room allowed us to come inside. As I shared the memories I made in that room with her and my daughter, I wept. That year forever changed my life. Tutwiler symbolizes my starting point in my journey at UA. The place that made UA feel like home, even though I was hundreds of miles from my Indiana home. Tutwiler holds a very treasured place in my heart. It forever will. I am heartbroken the campus will soon lose the unique landmark that is Julia Tutwiler Hall. But, the memories I made there will never be lost."

Carol Diegel (left), resident from 1976-1977
Hometown: Anderson, Indiana
"Fond memories of Tutwiler as a freshman at UA. Loved the community aspect. Classes were in walking distance. Football game day was electric. RVs filled our parking lots. RAs kept us in line and the boys out. (Tutwiler was) a girls-only dorm at the time. Thankful for the memories…a true springboard into the four years at Bama. Roll Tide!"

Ciaren Bevelle, resident from 1990-1991
Hometown: San Francisco, California
"I painted massive banners for the stairwells during football season because they were quite drab to go up and down. I continued on in the spring for holidays as people enjoyed them. At the end of the year, one of the women on the cleaning staff came to my room and asked me to go down to the basement. She had worked the whole year to hand stitch me a quilt because my signs made their job happier. I still have it and cherish it to this day. It was a precious gift. We never know how we can touch others that we may never meet, or how they can reciprocate and leave a lasting mark in our lives as well."

Lea Anne (Kaigler) Daughrity, 1992-1993
Hometown: Springfield, Virginia
"I was an RA in Tutwiler for five semesters from 2009 to 2012. So much fun. I loved living there. The girls I got to work with were so amazing and were some of my best friends in college. I LOVED working for Barbra Green. So many great memories. Tutwiler made my college experience so wonderful."

Emily (Wolfe) Daniel, resident assistant from 2009-2012
Hometown: Birmingham, Alabama
"My memories include going to the common room to watch The Cosby Show and hanging out with the great girls at the end of the hall of the 11th floor."

 Amy Hammonds, resident from 1986-1988
Hometown: Hollman AFB, New Mexico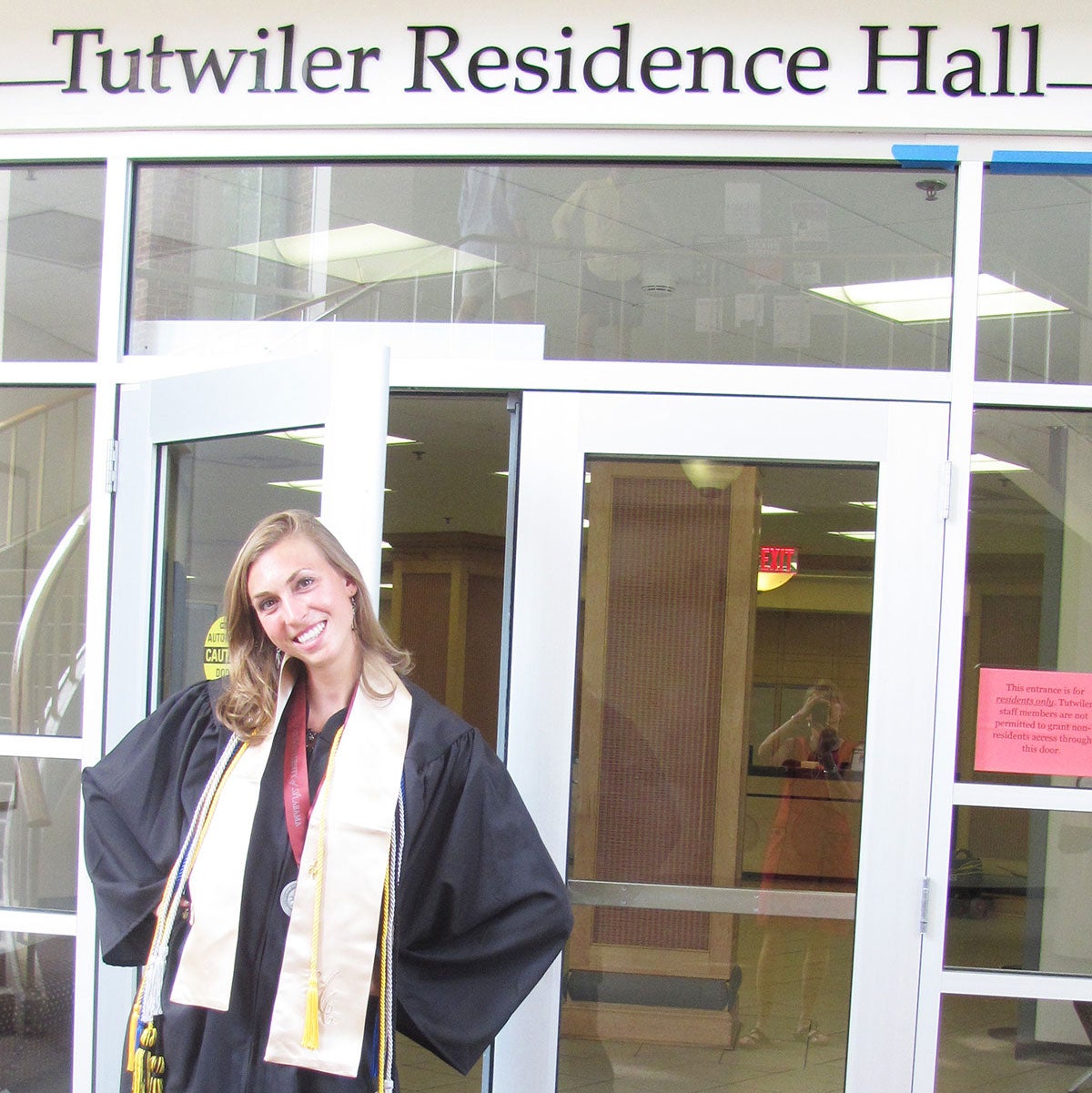 Emily Daniel poses in front of Tutwiler Hall on her graduation day.
"Tutwiler meant roommates and friends, decorating our door and making our room homey. As I flew from France to Atlanta, then took the Greyhound bus to Birmingham, I arrived for my freshman year by cab with two large suitcases, representing all I owned at the time. The driver asked about my story during our trip together. Not only did he help me bring my suitcases up, but he stayed with me to move in. While other residents had family and friends as a support, I was running around the building with a cab driver. He made sure I was OK and had his number should I need anything else. What a great man ensuring I had a wonderful school start."

Florence Gum, resident from 1992-1993
Hometown: Blotzheim, France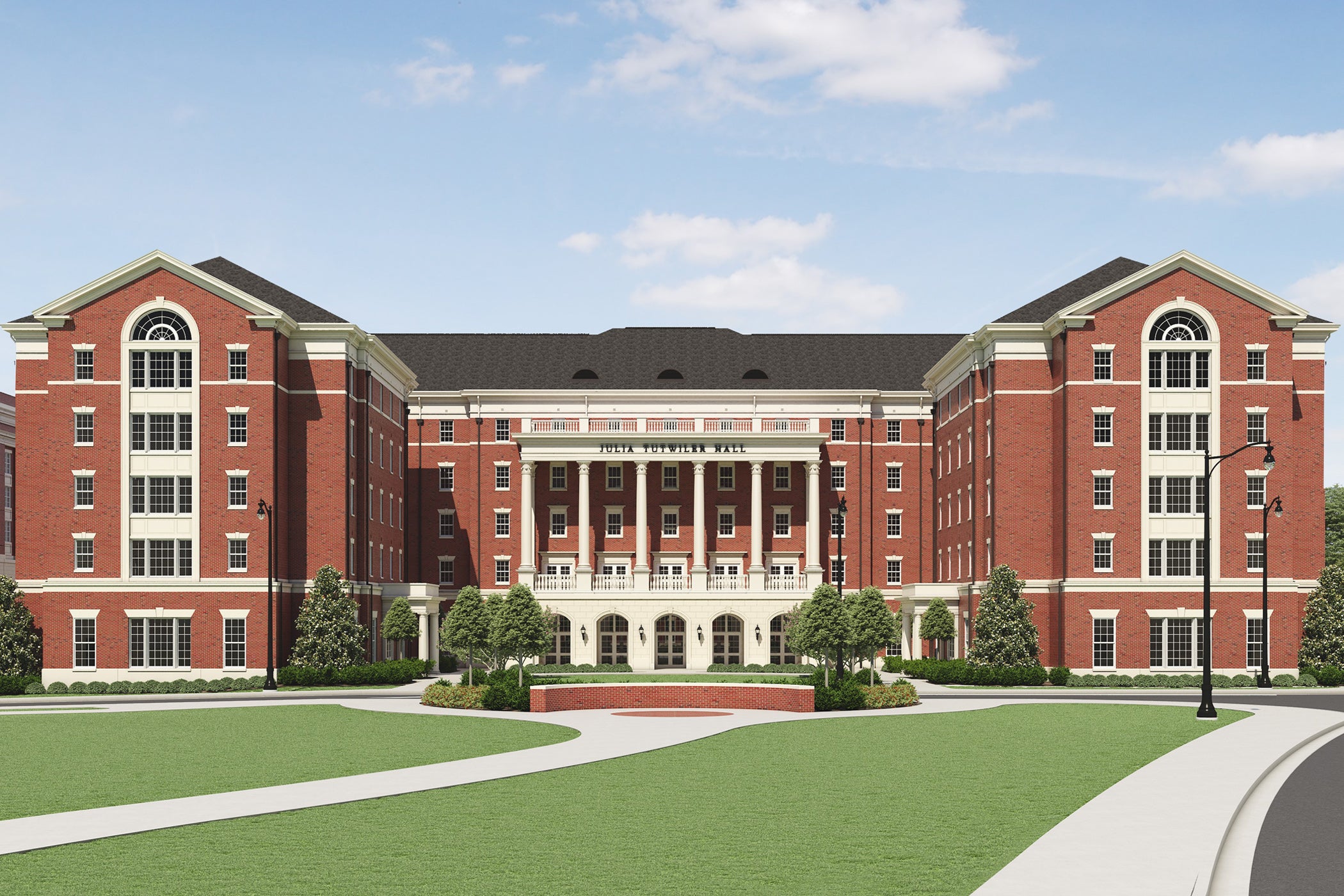 A New Era Begins
The new Tutwiler Hall opening in August 2022 will be reminiscent of its predecessor, but with some welcome upgrades. Like the old Tutwiler, it will have common spaces with televisions, two twin beds in each room, and, of course, Julia's Market, a convenience store and resident favorite for grab-and-go dining.
However, residents will be greeted by several new amenities including private bathrooms in each room, laundry rooms on each floor, outdoor social spaces, a fitness area, a craft room and a large storm shelter/multipurpose room.
When move-in day rolls around this fall, a new set of women will find their dorm rooms and meet their new roommates for the very first time. It's a rite of passage that the old Tutwiler Hall witnessed for more than half a century. It's a tradition now passed on to the new Tutwiler, whose first-ever residents will be the next generation creating memories to last another 50 years.
Learn more about the new Tutwiler Hall.
Contact
Jennifer Brady, UA Strategic Communications, jennifer.brady@ua.edu
The University of Alabama, part of The University of Alabama System, is the state's flagship university. UA shapes a better world through its teaching, research and service. With a global reputation for excellence, UA provides an inclusive, forward-thinking environment and nearly 200 degree programs on a beautiful, student-centered campus. A leader in cutting-edge research, UA advances discovery, creative inquiry and knowledge through more than 30 research centers. As the state's largest higher education institution, UA drives economic growth in Alabama and beyond.