Being the best at any craft requires an immense amount of self-discipline, dedication and grit that can be found in any great leader.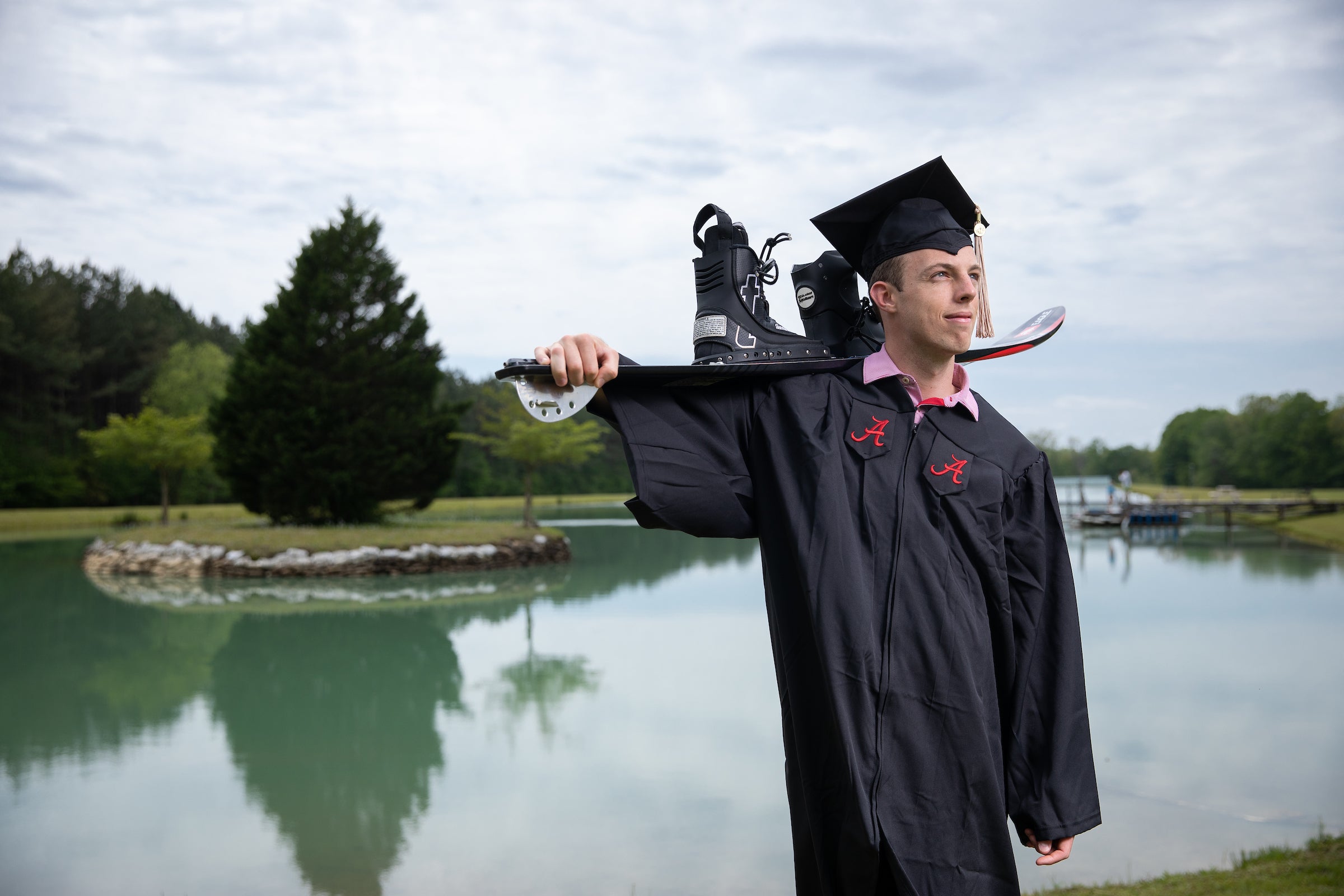 Sean Hunter has embodied these intangibles for many years as one of the best slalom water skiers in the world, winning numerous championships, setting records and becoming a world champion along the way.
Hunter, a native of Dothan, was introduced to the sport as an infant thanks to his father who took up water skiing as a hobby following a career with the U.S. Marine Corps.
"My mom was looking for ways to convince my dad to end his time as an active member of the military and start a new career," Hunter recalls. "My dad told her that he always wanted to be a water skier when he was a kid, and they made an agreement that he could pursue water skiing once he was done with his military duties."
Water skiing started as a family activity when Hunter hit the water for the first time at 4 years old. But it didn't take long for the fun to turn into a passion as he entered his first competition at 6 years old and won his first national title at age 10.
As Hunter's love for the sport grew, his family found ways for him to practice his craft as much as possible. When he was a young teen, Sean and his dad would drive nearly two hours to a training site in Tallahassee, Florida, and back two to three days each week and almost every weekend.
"I had always practiced hard, but I feel like I took my training up a notch when I was around 14 years old," said Hunter. "My coach, Keith Albritton, taught me so much and my skill level increased rapidly to the point where I tied the national record for my age group in 2014."
Hunter's progression continued as he participated in numerous competitions and went on to be ranked number one in the world in the 14 and under, and 17 and under age divisions. When he was 17 years old, he entered his first world championship competition and placed fifth.
While Hunter knew about competitions very well, there wasn't much of one when it was time to select a college.
"I grew up a die-hard Alabama fan and my family had football season tickets, so I've been coming to Tuscaloosa for years," said Hunter.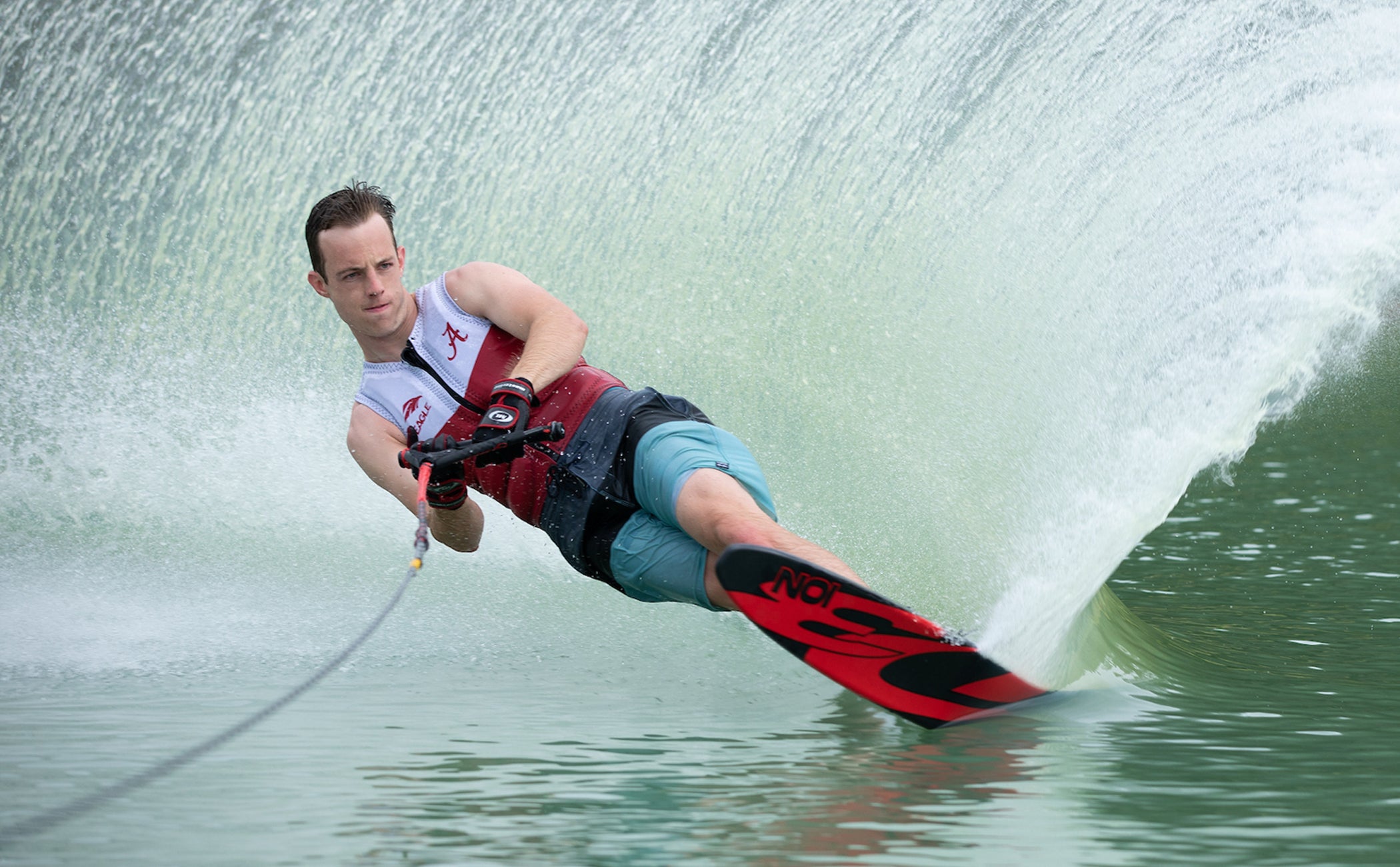 Hunter started water skiing at 4 years old and won his first national title at age 10.
Aside from growing up a fan, Hunter wanted to continue his slalom water skiing and compete at the collegiate level. Although he was heavily recruited by other universities, he was quickly sold on the UA Water Ski Team and its reputation as one of the top teams in the nation.
"Many people aren't aware, but UA has the best set up for water skiing in the nation," said Hunter. "We're one of a handful of schools that has its own private water ski lake near campus in Duncanville.
"The team is incredibly spoiled with an amazing coach, its own private lake and the best equipment available. So, for me, it was a pretty clear choice when I decided to attend the University."
"It means the world to me to earn my degree from The University of Alabama."
Hunter and the UA Water Ski Team are in contention for the national championship on a yearly basis. According to Hunter, the team has multiple national and world champions on its roster comprised of slalom, trick and jump water skiers from around the nation and world.
During his time at UA, Hunter reached the pinnacle of his career to date in August 2021 as a member of the U.S. U21 Water Ski Team competing in the International Waterski and Wakeboard Federation Under 21 Waterski Championships, the biggest event of the year.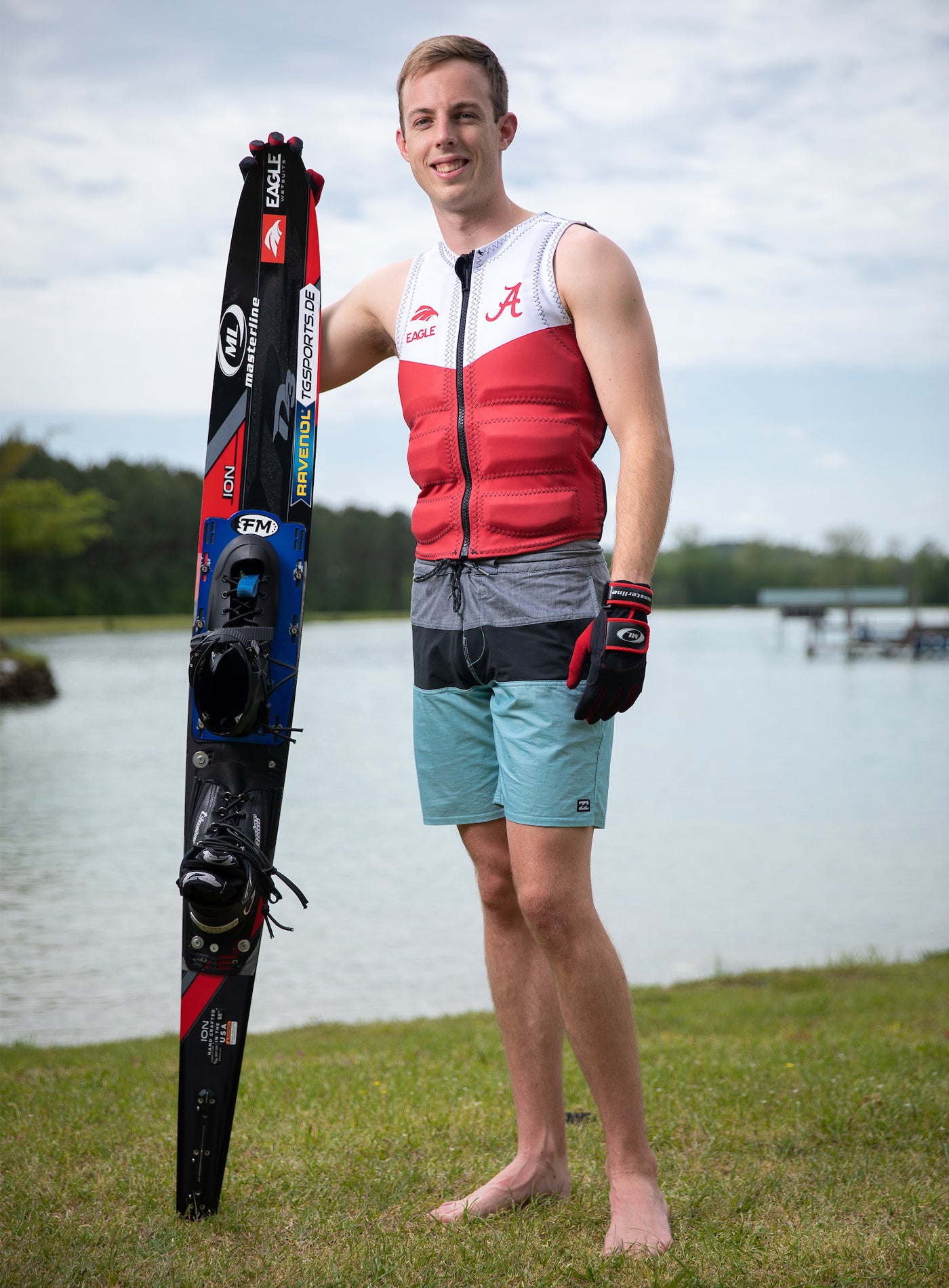 Hunter is the president of the UA Water Ski Team.
"While I had been ranked number one in the world a couple of times in my career, winning a world championship is completely different because you get one shot," said Hunter. "Although there was a ton of pressure, I feel like I was in a great position as a member of the team because I focused on doing my best for the team to win gold and not just myself when I've been in individual competitions."
Hunter helped lead Team USA to the overall gold medal while his individual performance won gold in slalom, making him the world champion in the process. He is still the reigning world champion for the 21 and under division.
Although Hunter grew up participating in numerous individual tournaments, his time competing on several teams has developed his leadership skills. He is currently the president of the UA Water Ski Team and chose his major, operations management, because of the leadership roles the field offers.
"When I first joined the water ski team I had a lot of great ideas, but I never took the initiative to share them because I felt like that was a job for someone else," said Hunter. "But now as president, I try to take on the most and lead by example because then everyone else will take charge and be inspired, and then the entire team is pulling in one direction."
After graduation, Hunter has a couple of great opportunities ahead of him. He's currently an intern with Mitsubishi Power in its global sourcing department and can see himself continuing his career with the company after graduation. He is also considering graduate school which will allow him to use his final year of eligibility with the UA Water Ski Team.
Hunter says he dreads the thought of his time at the Capstone coming to an end, but he looks back at his time at UA with great pride in all he's accomplished in his careers as a student and professional water skier.
"I'm looking forward to walking across the stage at graduation, but it will be bittersweet," said Hunter. "I get the chills thinking back to when I was kid coming to football games and walking around the Quad and now being lucky enough to spend four years here as a student.
"It means the world to me to earn my degree from The University of Alabama."
Contact
Bryant Welbourne, UA Strategic Communications, bryant.welbourne@ua.edu
The University of Alabama, part of The University of Alabama System, is the state's flagship university. UA shapes a better world through its teaching, research and service. With a global reputation for excellence, UA provides an inclusive, forward-thinking environment and nearly 200 degree programs on a beautiful, student-centered campus. A leader in cutting-edge research, UA advances discovery, creative inquiry and knowledge through more than 30 research centers. As the state's largest higher education institution, UA drives economic growth in Alabama and beyond.