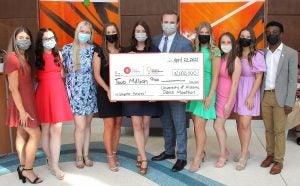 TUSCALOOSA, Ala. – The University of Alabama Dance Marathon was recently honored by Children's of Alabama for donating more than $2 million to the hospital since the student-led organization was created in 2011.
UADM's growth and fundraising activities at the University are evident in the amount of time it took to reach the new milestone. The organization reached the $1 million mark in a seven-year period and raised an additional $1 million in the four years that followed.
"UADM is the epitome of the change that can occur when the passion and drive of college students meets the great needs of the community," said Courtney Thomas, senior director with the UA Center for Service and Leadership. "The organization represents more than just a club. It is an organization that unites students from different walks of life, different states, cultures, and backgrounds for one common cause. This engagement often plants a seed in each of their lives for a future of philanthropy and active citizenship."
UADM is the largest student-run philanthropy on campus. The group's fundraising year concludes with the annual BAMAthon, a 12-hour dance marathon. More than 1,200 UA students, also known as Miracle Makers, participated in this year's event that took place in February.
"With this organization being fully led by students, they are more than just the fundraisers – they are the creative minds, financial forecasters, and future business leaders who work around the clock to educate our community on how together we can change kids' health and change the future," said Thomas. "These students leave UA with skills and experiences, rooted in servant leadership, that take them far in their professional careers and personal endeavors."
Since 1911, Children's of Alabama has provided specialized medical care for ill and injured children, offering inpatient, outpatient and primary care throughout central Alabama. Ranked among the best children's hospitals in the nation by U.S. News & World Report, Children's serves patients from every county in Alabama and nearly every state.
"We are so proud of the students at The University of Alabama and how invested they are in the Dance Marathon program," said Emily Hornak, director of Cause Marketing and Corporate Partnerships at Children's. "Each year, their commitment to our patients and raising funds for Children's continues to grow, and that is apparent in how quickly they have achieved this $2 million milestone. We are grateful for the hard work, dedication and enthusiasm the students bring to Dance Marathon each year."
Contact
Bryant Welbourne, UA Strategic Communications, bryant.welbourne@ua.edu, 205-348-8325
The University of Alabama, part of The University of Alabama System, is the state's flagship university. UA shapes a better world through its teaching, research and service. With a global reputation for excellence, UA provides an inclusive, forward-thinking environment and nearly 200 degree programs on a beautiful, student-centered campus. A leader in cutting-edge research, UA advances discovery, creative inquiry and knowledge through more than 30 research centers. As the state's largest higher education institution, UA drives economic growth in Alabama and beyond.