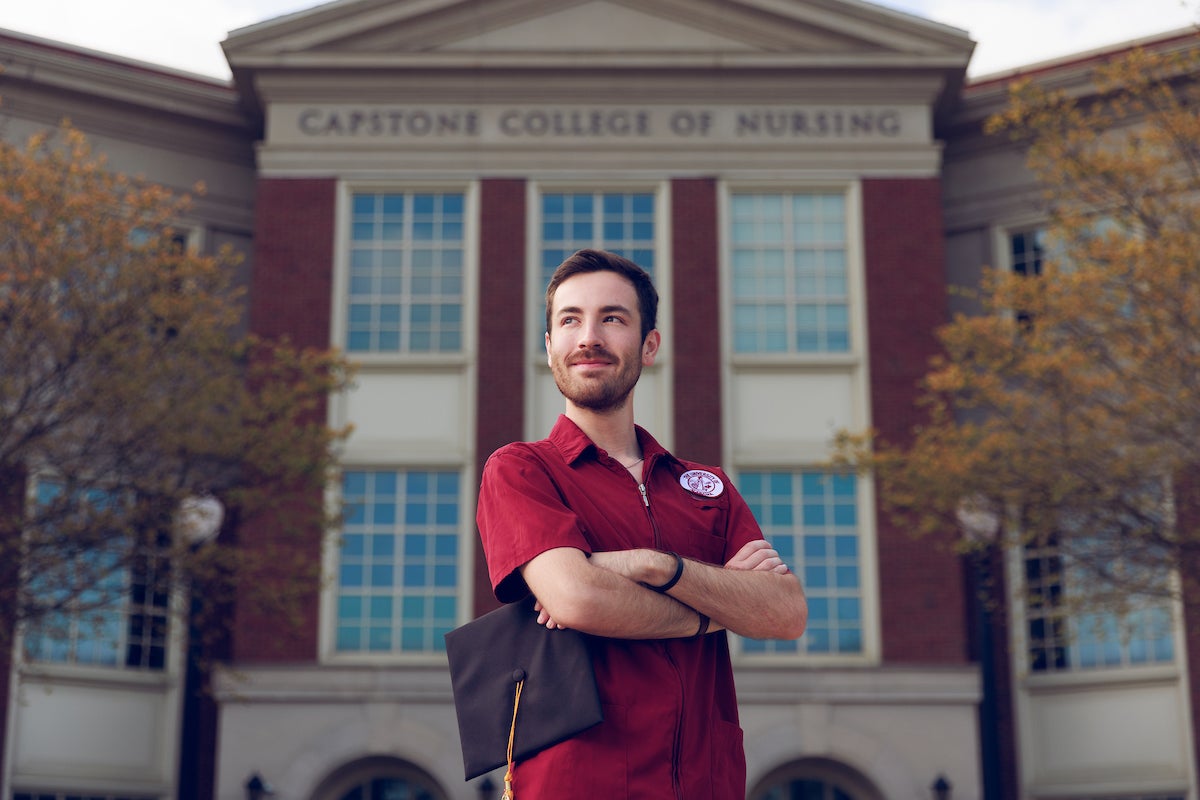 Nursing graduate Mason Aldridge's commitment to serving rural communities has led him to the Mayo Clinic in Rochester, Minnesota.
Growing up in Fayette, Alabama, Mason Aldridge witnessed the challenges to accessing health care that people living in rural communities face. He also experienced firsthand the difference one person can make. 
As a teenager sitting in a hospital room surrounded by his family, Aldridge watched the nurse caring for his grandfather during his final days. Aldridge was struck by the nurse's compassion and professionalism. He found his true calling. 
"Being by someone's side and knowing you've done everything you can do to make their day just a little better is something that I value and is what drew me to health care," Aldridge said. 
His passion to serve others in rural communities stemmed from his personal experiences, but his journey to the Capstone started with the University's Rural Health Scholars program. Aldridge attended the RHS program before the start of his senior year of high school in 2017. The hands-on program let Aldridge shadow health care workers, visit rural facilities and gain valuable knowledge about the state's health care system.  
Five years later, Aldridge is set to earn his bachelor's degree in nursing in May and become the first college graduate in his family.  
Aldridge's time at the Capstone has been filled with several successes, including being the past president of UA's First Fellows, president of Tuscaloosa Men in Nursing and an ambassador for the Capstone College of Nursing. In 2021, he was recognized by The Conversationalist as a health care honoree and served on a panel for the platform's YouTube channel. 
Throughout it all, his determination to transform the health of small communities like his hometown never wavered. In 2021 Aldridge founded the Rural Health Factor, a nonprofit organization currently working within the Black Belt to provide accessible health care and improve the overall community. 
"I primarily talk about things like preventative health care measures — like how to check your blood pressure or pulse rate, and what does it mean to have diabetes? And how can you manage those issues if you don't have access to health care?" Aldridge said. "If we can teach someone how to make diet modifications, or lifestyle changes such as increasing exercise or overall well-being, treating a person in a holistic approach will decrease their physical symptoms and disease progression, ultimately."
His boots-on-the-ground approach through his research projects and nonprofit has helped provide basic first-aid care, a community garden and educational messages to residents of Uniontown, Alabama. Aldridge will continue to head the nonprofit after completing his degree, aiming to expand its reach to other communities.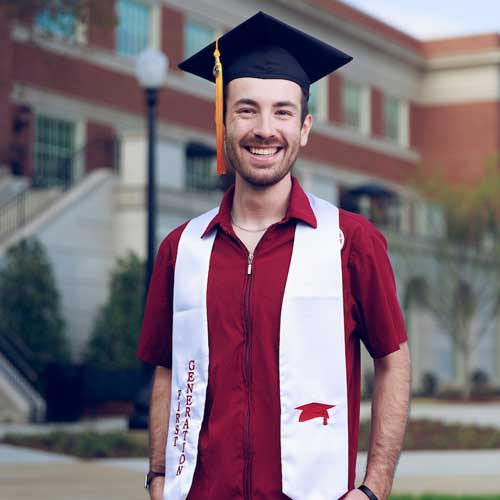 Aldridge is the first in his family to graduate college.
After graduation, Aldridge will head to the nurse residency program at the prestigious Mayo Clinic in Rochester, Minnesota, where he will work in the pediatric intensive care unit. But that is not the last stop for the Alabama native. 
"I would love to earn a Doctor of Nursing, have my own practice on the side and then pursue either a master's degree or a doctoral degree in public policy or in health policy," Aldridge said. "I want to be the person bridging the gap between what we are doing in practice and what we can do in policy. That way, we have better outcomes for not only the providers but also for the patients." 
Contact
Caroline Gazzara-McKenzie, Strategic Communications, caroline.mckenzie@ua.edu
The University of Alabama, part of The University of Alabama System, is the state's flagship university. UA shapes a better world through its teaching, research and service. With a global reputation for excellence, UA provides an inclusive, forward-thinking environment and nearly 200 degree programs on a beautiful, student-centered campus. A leader in cutting-edge research, UA advances discovery, creative inquiry and knowledge through more than 30 research centers. As the state's largest higher education institution, UA drives economic growth in Alabama and beyond.