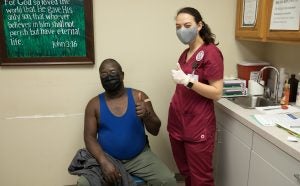 TUSCALOOSA, Ala. – The University of Alabama Capstone College of Nursing was one of 10 schools of nursing selected by the American Association of Colleges of Nursing, or AACN, to develop a campaign to build confidence in COVID-19 vaccines and dispel health misinformation.
AACN was awarded $1 million in funding from the Centers for Disease Control and Prevention to launch the Building COVID-19 Vaccine Confidence Among Nurses and in Communities initiative and will provide funding for each university's targeted campaign.
UA's efforts will be led by the Capstone College of Nursing's Dr. Haley Townsend, assistant professor and project principal investigator; Dr. Paige Johnson, Saxon Chair of Rural Nursing; and Dr. Sara Kaylor, associate professor. The campaign will emphasize providing education and resources to rural communities.
"Our team is thrilled to perform this work that will increase our nurses' confidence in discussing vaccine hesitancy in Alabama communities, particularly in rural settings," said Townsend. "We know this project can have a positive impact on the health and future of Alabama. We are humbled and thankful to AACN and the CDC for the funding support to the Capstone College of Nursing."
Campaign leaders will host a town hall-style event for students and faculty to discuss stories surrounding receipt or provision of the COVID-19 vaccine, dispel myths and fears, and offer training on how attendees can motivate others to get vaccinated. With the help of AACN, the Capstone College of Nursing will develop media with success stories and accurate information surrounding the COVID-19 vaccine. Through a partnership with Gentry Drugs in Aliceville, and CHOICE, Inc. in Uniontown, UA nursing students will have the opportunity to provide education and use their training to connect with those who may be reluctant to receive the vaccine.
With COVID-19 vaccines widely available, only 65% of Americans are fully vaccinated according to the CDC.
According to the AACN, the initiative was developed to help nursing school faculty and students have effective conversations about COVID-19 vaccinations to boost consumer confidence. Participating schools of nursing will undertake a variety of education and outreach activities to reach individuals and populations at risk.
Contact
Rosemary Russell Kirby, UA Capstone College of Nursing, rurussell@ua.edu, 205-348-7429
The University of Alabama, part of The University of Alabama System, is the state's flagship university. UA shapes a better world through its teaching, research and service. With a global reputation for excellence, UA provides an inclusive, forward-thinking environment and nearly 200 degree programs on a beautiful, student-centered campus. A leader in cutting-edge research, UA advances discovery, creative inquiry and knowledge through more than 30 research centers. As the state's largest higher education institution, UA drives economic growth in Alabama and beyond.