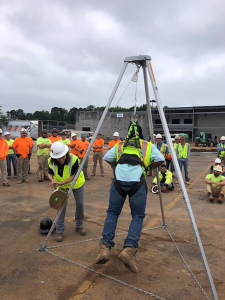 TUSCALOOSA, Ala. – The University of Alabama is partnering with the Occupational Safety and Health Administration, or OSHA, and a Birmingham company to make a Jefferson County job site safer.
The UA SafeState Occupational Safety and Health Consultation Program will sign a partnership with the OSHA Area Office in Birmingham and Brasfield & Gorrie General Contractors for the new UAB MedWest project being built in McCalla. The signing will take place Wednesday, Mar. 2 at 11 a.m. at 4501 Bell Hill Rd., Bessemer.
"The primary objective of this partnership is to create a working relationship that focuses on preventing work-related fatalities, mitigating serious workplace hazards and establishing a foundation for the development of an effective safety and health program," said Don Elswick, executive director of UA SafeState.
The partnership will establish a job site safety team, consisting of all the primary contractors who work at the site, whose responsibility will be to develop an understanding and awareness that all accidents are preventable and unnecessary, Elswick said.
"Worker safety and health partnerships rely on the collaboration between OSHA, management and labor to leverage resources and maximize results," said Ramona Morris, director of the OSHA Area Office. "The commitment toward worker safety made by UA SafeState and Brasfield & Gorrie should serve as an example for other employers."
Under the partnership, UA SafeState will conduct quarterly safety and health audits at the construction site in which all subcontractors will participate. These audits will be performed in accordance with OSHA standards. Brasfield & Gorrie will use the information to analyze injury and illness trends, including near-miss incidents, by all contractors performing work at the site. This data will be used to ensure continual safety and health improvements at the site.
The UA SafeState Occupational Safety and Health Consultation Program is designed to help employers control costs by reducing accidents, illnesses and problems with regulatory compliance. This cooperative agreement program is 90% funded by the Occupational Safety and Health Administration and 10% by the state of Alabama. The program is a free, confidential service provided by The University of Alabama College of Continuing Studies to employers throughout the state of Alabama.
Source
Don Elswick, ddelswick@ua.edu, 205-348-4667
Contact
Shane Dorrill, UA Strategic Communications, shane.dorrill@ua.edu, 205-348-8319
The University of Alabama, part of The University of Alabama System, is the state's flagship university. UA shapes a better world through its teaching, research and service. With a global reputation for excellence, UA provides an inclusive, forward-thinking environment and nearly 200 degree programs on a beautiful, student-centered campus. A leader in cutting-edge research, UA advances discovery, creative inquiry and knowledge through more than 30 research centers. As the state's largest higher education institution, UA drives economic growth in Alabama and beyond.