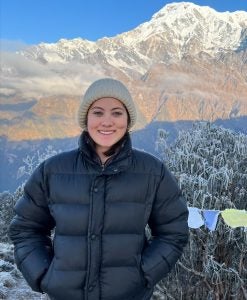 TUSCALOOSA, Ala. – A University of Alabama junior majoring in aerospace engineering was one of 51 students in the nation to earn a Brooke Owens Fellowship, a nationally acclaimed program that awards exceptional undergraduate women and gender minorities studying the field of aerospace.
Simran Dhoju, of Kathmandu, Nepal, will take part in the program that pairs each fellow with a summer internship at one of the leading aerospace companies, an executive-level mentor who are senior leaders in the aerospace industry and a peer-level mentor from the Brooke Owens Fellowship alumnae network. According to the organization, Dhoju will be part of the most diverse and competitive class to date.
"For me, receiving the Brooke Owens Fellowship has been the greatest honor of my life," said Dhoju. "In a highly male-dominated aerospace industry, it is difficult to see representation. The Brooke Owens Fellowship will provide a lifelong network of women and gender minorities who are taking the industry by storm."
Dhoju will work at Planet Labs as a systems engineering intern in the space systems division. Operating more than 200 earth observation satellites, Planet is the leading earth-imaging satellite company that uses satellite data for various humanitarian efforts in disaster management and response; tracking illegal activities; developing agricultural maps; and monitoring climate change.
"The mission at Planet is quite literally the reason why I pursued aerospace," said Dhoju. "During the 2015 Nepal earthquake of 7.8 magnitude, I realized how the lack of Nepal's own satellite caused delays in receiving satellite images to locate the victims. I always wondered how many more lives could have been saved if we had our own earth-imaging satellite.
"This experience introduced me to the aerospace industry, and I have not looked back ever since. One of my ultimate goals in life is to establish an earth-imaging satellite company in Nepal to help with disaster response and management. I think my time at Planet will be the steppingstone of my career."
During her time at UA, Dhoju has been named an American Institute of Aeronautics and Astronautics Diversity Scholar and is currently a project manager with the Alabama Rocketry Association. As the leader of one of the group's solid rocket teams, her team was selected to compete this summer in the Spaceport America Cup 2022, the largest intercollegiate rocketry competition in the world.
"I identify myself as a triple-minority: a woman in aerospace, an international student in aerospace and one of the few people from my country pursuing aerospace," said Dhoju. "Receiving this fellowship means inspiring others who look like me to keep fighting and persevering for their dreams.
"It means being a role model that I wished I had growing up. This fellowship helps me celebrate my intersectionality and help others do the same."
Contact
Bryant Welbourne, UA Strategic Communications, bryant.welbourne@ua.edu, 205-348-8325
The University of Alabama, part of The University of Alabama System, is the state's flagship university. UA shapes a better world through its teaching, research and service. With a global reputation for excellence, UA provides an inclusive, forward-thinking environment and nearly 200 degree programs on a beautiful, student-centered campus. A leader in cutting-edge research, UA advances discovery, creative inquiry and knowledge through more than 30 research centers. As the state's largest higher education institution, UA drives economic growth in Alabama and beyond.