Five University of Alabama students are aiming to win another championship for their school at the second annual Dr. Trudier Harris Intercollegiate Black History Scholars Bowl in February.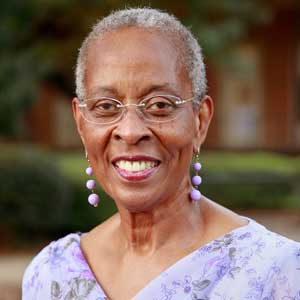 Hosted by UA's Black Faculty and Staff Association, this year's event will feature teams from The University of Alabama, Stillman College, Alabama State University, Alabama A&M and several community colleges competing in a series of questions centered on Black history.
UA will be represented by Jonathan Kelly, Ta'Kyla Bates, Za-Nyah Truitt, Christine Thompson and Deja Evans.
Evans was a student at Shelton State Community College when she competed in the inaugural Black Scholars Bowl in spring 2021. Evans transferred to the Capstone during the summer and had one goal: To help create UA's own Black Scholars Bowl team. Last year, UA had a team assembled, but due to unforeseen circumstances, several team members were not able to participate on the day of the event. But this year, with the help of Chad Jackson president of the BFSA, Evans and her teammates are excited to represent UA.
All teams receive approximately 150 questions and answers about a month before the competition and begin studying the information. The questions are compiled by several faculty and staff members across Alabama's higher education system and fall into eight categories. Evans said it's about learning Black history in different ways.
"Two things we've been working on is making sure that the questions are not only just something that we memorize but something that we're allowing to resonate with us," Evans said. "We are taking the initiative — we're not just assigning questions, just to memorize them, but making sure that it's something we enjoy."
Named after Dr. Trudier Harris, who is a distinguished research professor in the UA English department, the goal of the Black History Scholars Bowl is to create an inclusive, educational environment for Black students.
"This is very special and I am honored, truly honored," Harris said of having the competition bear her namesake. "I think any honor that comes to me as a result of education or anything that I have achieved in life, really comes to my mother, who raised all of her kids after my father died and is responsible for everything, I give her credit for everything I have achieved."
The competition is open to the public Feb. 5 at 9 a.m. at the Bryant Conference Center. Later that day, the inaugural Wakanda Scholarship Ball will recognize the winning team at dinner.
See if you can answer our Black Scholar Bowl Questions in our online quiz.
Black History Month 2022
Discover more stories, events and resources for UA's Black History Month 2022 celebration.