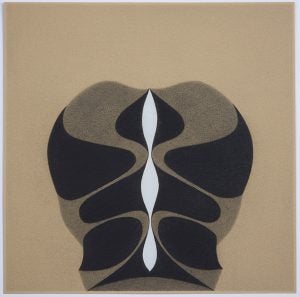 Sarah Moody Gallery of Art
Every two years, UA studio art faculty exhibit their ongoing research in art in a group show for the community. The 2022 Faculty Biennial Exhibition opens Feb. 3 with an artists' reception from 4 to 6 p.m. The exhibition runs through March 11 in the Sarah Moody Gallery of Art, located in Garland Hall.
Gallery director and associate professor William Dooley, who has curated the faculty shows for three decades, emphasized the element of discovery built into each exhibition: "With our new faculty added to the mix and the use of innovative materials and approaches in art production, the works display a richness of artistic depth that will make this year's show a great opportunity for the University and Tuscaloosa community and all art lovers in our area."
Paul R. Jones Museum
"Together for Creativity: A Collaboration with Central Elementary School," is an exhibition of artworks from the Paul R. Jones Collection and artworks by Tuscaloosa's Central Elementary fifth-grade students. The exhibition runs through Feb. 25, and there will be a reception for the artists Feb. 4 from 5 to 8 p.m., at the Paul R. Jones Museum during downtown Tuscaloosa's First Friday festivities.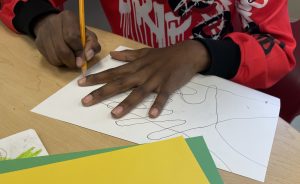 Last fall, museum director Daniel White gave the fifth graders a tour of the museum during the recent exhibition "Forward Movement: Selections from the Collection of Johnny and Allison Howze." The Howzes, inspired by Paul R. Jones, have been collecting works primarily by African American artists since 1997.
Dr. Wendy Castenell, who teaches African American art history at UA and heads the organizing committee for "Together for Creativity," talked to the students after the tour about African Americans as artists who create art about Black history and culture.
Working alongside UA art faculty and their own art teacher, students created works including ceramic tiles, sculptures, self-portraits and small prints. "Together for Creativity" will exhibit about 50 artworks by the students, with each student selecting their strongest work.
This exhibition and program have been made possible by grants from the Alabama State Council on the Arts and the National Endowment for the Arts.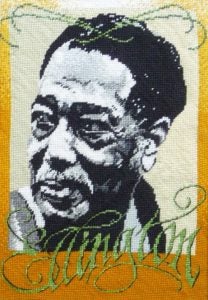 The University of Alabama Gallery
"Shaken By the Roots: Works by Leanna Leithauser-Lesley" runs through Feb. 25, with an artist's reception Feb. 4 from 5 to 7 p.m. The gallery is located within the Dinah Washington Cultural Arts Center at 620 Greensboro Ave.
Fiber artist Leithauser-Lesley characterizes herself as "an avid needlepointer compelled by the power of jazz music, the drama of photography and the intention to raise the awareness of needlepoint as an art form." Her subjects include jazz icons like Duke Ellington, Louis Armstrong, Dave Brubeck, Ray Charles, Thelonious Monk, Jelly Roll Morton, King Oliver, Dinah Washington and Nina Simone.
"Leanna Leithauser-Lesley's highly skilled portraits in needlepoint offer an alternate view of what portraiture is," noted UA Gallery director Daniel White. "The title 'Shaken By the Roots,' underscores the role jazz has played as an influence on other forms of American music."
She has had solo exhibitions of her needlework portraits and her work has been selected for numerous juried and invited exhibitions.
University Medical Center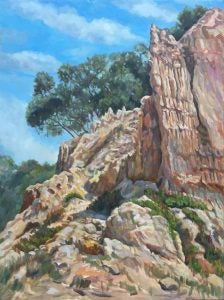 "Dimensions, Doodles and Dreams," an eclectic mix of art made by experienced artists and curated by artist Deborah Hughes, will run through the end of March.
Wellness Walls for Art is an ongoing series of exhibits sponsored by the University Medical Center at 850 Peter Bryce Boulevard.
The University of Alabama, part of The University of Alabama System, is the state's flagship university. UA shapes a better world through its teaching, research and service. With a global reputation for excellence, UA provides an inclusive, forward-thinking environment and nearly 200 degree programs on a beautiful, student-centered campus. A leader in cutting-edge research, UA advances discovery, creative inquiry and knowledge through more than 30 research centers. As the state's largest higher education institution, UA drives economic growth in Alabama and beyond.