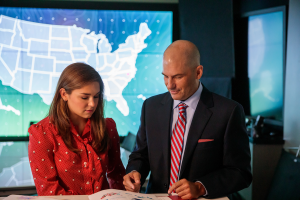 TUSCALOOSA, Ala. – A new program being offered by The University of Alabama Culverhouse College of Business will provide business executives a unique opportunity to gain hard skills and deep knowledge that will allow them to make transformative impacts within their organizations.
The Executive Education at Culverhouse program will feature distinct module-based tracks via in-person, virtual and hybrid formats. The program is designed to hone an individual's ability to make effective and informed decisions, lead technical teams, and identify and reduce risks. Initial modules include business cybersecurity, data analytics and executive leadership. More courses will be added over time.
"We've heard and heeded the call from established alumni, partners and friends of the Culverhouse College of Business for learning options that are suited for their needs and schedules," said Dr. Kay Palan, dean of the college.
"We're going all in with an executive-focused curriculum crafted by both our highest ranking and straight-from-industry faculty," Palan said. "Ancillary benefits like campus visits and structured team building and networking opportunities make our offerings especially unique."
The first program, business cybersecurity, will be led by Dr. Allen Johnston, the Marillyn Hewson Endowed Professor of Cybersecurity and a highly respected authority on cyberthreats. The program is oriented toward information technology leaders who oversee teams responsible for hardening an organization's digital footprint as well as day-to-day practitioners. Practical topics including threat detection, mitigation, reporting and remediation, insider threats, and best practices in developing a cybersecurity-focused culture will be discussed.
A webinar information session will be held Jan. 11, 2022, from 5 to 7 p.m., and will offer participants an opportunity to get further details ahead of the program's launch in April.
More information about the Executive Education at Culverhouse program and registration for the upcoming business cybersecurity information session is available on the program's website.
Source
Jan Jones, director of executive education programs, jjones@culverhouse.ua.edu, 205-348-7221
Contact
Zach Thomas, Culverhouse College of Business director of marketing and communications, zthomas@culverhouse.ua.edu, 513-313-9254
The University of Alabama, part of The University of Alabama System, is the state's flagship university. UA shapes a better world through its teaching, research and service. With a global reputation for excellence, UA provides an inclusive, forward-thinking environment and nearly 200 degree programs on a beautiful, student-centered campus. A leader in cutting-edge research, UA advances discovery, creative inquiry and knowledge through more than 30 research centers. As the state's largest higher education institution, UA drives economic growth in Alabama and beyond.