The Office of Information Technology has developed a new, streamlined and searchable version of myBama.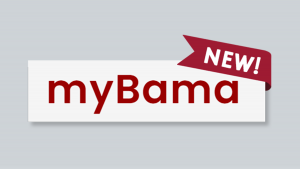 The new portal will be released for beta testing Nov. 15 and will be released to all of campus in Spring Semester 2022. Beginning Nov. 15, users can log in at myBama.ua.edu and select the option to try the "new myBama." In January 2022, the previous version of myBama will be decommissioned and all users will transition the new myBama.
"We're excited to provide the opportunity for users to poke around and test out the new myBama before making a permanent change," said Meagan Bennett, director of customer relations for OIT.
Before developing the new site, OIT met with its Student IT Forum to hear from students how myBama could be improved.
"The Student IT Forum is incredibly helpful for us when considering changes to services," said Bennett. "We meet with them once a month to ask questions, test out projects and get immediate feedback. The forum provided several things for us to consider when designing a new version of myBama."
The new myBama has a clean, bright and modern design. It also features several new functional elements that make the site user-friendly and mobile-first. One key feature that students specifically asked for in the new myBama: search.
"When OIT started talking with the Student IT Forum about designing a new myBama, my top request was that they incorporate a search bar," said Sarah Liang, a senior majoring in computer science. "The new myBama has search functionality and keyboard shortcuts that even power users will love. Students will be able to use MyBama to get to what they need faster and easier than ever before."
Users can search for links by keyword. For example, if a student is looking for the MyTickets link, they can search football, tickets or even Nick Saban to find the MyTickets link.
The new portal also offers a Pinned Links section that allows users to customize their own myBama homepage.
"We've found that most students, faculty and staff visit myBama for a handful of routine things, but those things may be different for each user," said Joey Stowe, director of software and application development in OIT. "Staff may visit myBama to enter vacation or sick time. Students may visit myBama to view their class schedule. The Pinned Links section allows you to customize myBama for your needs."
The site also provides a Popular Links section customized for each type of user. Once a week, this section will refresh to show the most popular links based on a user's primary affiliation: student, faculty or staff. This time of year, you can expect to see MyTickets at the top for students, and BenefitFocus for faculty and staff.
"Our goal is to provide elements on the homepage of myBama to get users the content they need," said Stowe.
The option to scan content on pages is still available in the new myBama in the legacy format; find it by visiting the pages listed on the left menu.
Along with a sleek look, the new myBama is also designed to be mobile-first. Users can visit myBama on their mobile devices and access the same functionality.
Check out myBama.ua.edu on Nov. 15 to see the new version.
The University of Alabama, part of The University of Alabama System, is the state's flagship university. UA shapes a better world through its teaching, research and service. With a global reputation for excellence, UA provides an inclusive, forward-thinking environment and nearly 200 degree programs on a beautiful, student-centered campus. A leader in cutting-edge research, UA advances discovery, creative inquiry and knowledge through more than 30 research centers. As the state's largest higher education institution, UA drives economic growth in Alabama and beyond.