Don't stress, let's make finals week a success! Close out the semester on a high note with these seven tips.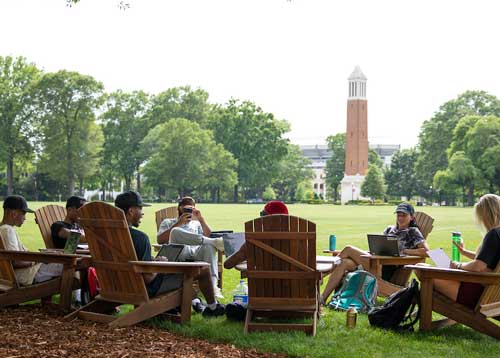 1. Make a schedule
If you haven't already reviewed UA's academic calendar for this semester's finals schedule, take a look and start blocking out time not just for exams, but for studying, too.
UA's Counseling Center offers several ideas for time management.
2. Take breaks
Remember that you are only one person, and it is OK to prioritize study breaks, mental health and sleep. Here's a list of ways to manage stress.
Experts recommend physical activity to help relax.
3. Get some sleep
Nearing crunch time, many students tend to over-exert themselves by studying all night before the big test. The Counseling Center has several tips to help with sleep.
"No one is a machine that can work all the time. When we push ourselves beyond our limits, we hurt our ability to replenish our mental and physical resources. We have to prioritize self-care, mental health and overall wellness. Finals week is a stressful time, and it's important to take breaks." – Greg Vanderwal, Director, UA Counseling Center
4. Eat healthy food
Snacks can be found all over campus. Make sure you grab something without too much sugar that will keep you full. All dining halls and on-campus shops offer a variety of healthy options.
Don't forget about water! Coffee may keep you awake, but water keeps you hydrated.
5. Find your resources
The Student Government Association offers free blue books for exams. Blue books can also be purchased at the Super Store.
Not only does University Libraries offer digital access to hundreds of databases, but coffee and donuts are available at Gorgas Library through the end of this week.
The Quad, Crimson Promenade and other high-traffic areas have pop-up finals week activities and snacks.
Reserve your favorite study room.
Several local restaurants offer discounts to students.
The Capstone Center for Student Success is offering final exams preparation skills workshops.
6. Practice breathing exercises
If you feel overwhelmed, take just a few minutes to do some easy breathing exercises. Here are some steps:

Find a comfortable space for you to relax. Turn the lights down if you can. Close your eyes and take a deep breath, counting to five. Slowly exhale while counting to five.
Repeat exercise throughout the day, at least twice. Doing this helps clear your mind and maintain focus.
7. Know you're not alone
Finals week can be both mentally and physically exhausting. Take some time for yourself because you deserve it. If you feel like you need someone to talk to, the UA Counseling Center is available.
You've got this. Remember to take breaks, eat well and get some sleep so you can roll into winter break and next semester with ease!
Contact
Caroline Gazzara-McKenzie, UA Strategic Communications, caroline.mckenzie@ua.edu
The University of Alabama, part of The University of Alabama System, is the state's flagship university. UA shapes a better world through its teaching, research and service. With a global reputation for excellence, UA provides an inclusive, forward-thinking environment and nearly 200 degree programs on a beautiful, student-centered campus. A leader in cutting-edge research, UA advances discovery, creative inquiry and knowledge through more than 30 research centers. As the state's largest higher education institution, UA drives economic growth in Alabama and beyond.