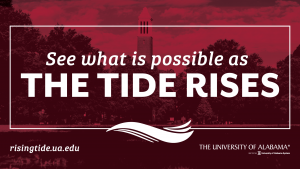 TUSCALOOSA, Ala. — The University of Alabama launched the largest fundraising campaign in state history to raise a minimum of $1.5 billion in private donations to support all areas of campus — from student scholarships and faculty research to campus facilities and athletics.
The Rising Tide Capital Campaign, focused on elevating the University's prominence as a leader in higher education, has raised $940 million to date.
"Our alumni, faculty, staff, supporters and friends have always united to support UA's mission and advance its contributions as the state's flagship university," said UA President Stuart R. Bell. "This campaign will amplify the University's impact on teaching, research and service for generations. We are thrilled by what has been accomplished to date and look forward to seeing the direct impact of campaign donations on our students, research efforts, faculty endeavors, local and statewide economies, and much more."
Aligned with the University's strategic plan, campaign goals include increasing access, achievement and diversity through scholarships, fellowships and programming for undergraduate and graduate students; elevating UA's success and impact through research and endowments supporting faculty; enhancing the campus with new and upgraded facilities; and extending UA's dominance in college athletics.
The campaign will add 1,000 new endowed scholarships and 75 new faculty endowments, and it will impact over 500,000 square feet of space across campus. Additionally, the Crimson Standard component of the campaign will raise $600 million for athletic facility enhancements, program support and scholarships.
Planning for The Rising Tide Capital Campaign began in 2015, with the first gifts made just a year later. Since campaign counting began in October 2016, UA has raised almost 63% of the 10-year campaign goal.
Leading the way is a committed group of volunteers comprised of UA alumni and friends from across the country. This group of 21 is charged with spreading the message and rallying support, as well as connecting friends and classmates with the UA programs about which they're most passionate and where they can have the most impact. Campaign chairs are Kathy and Mike Mouron and Karen and Jim Brooks, all longtime UA supporters.
"Anyone who has traveled to campus recently has to be impressed by the quality of the students, the faculty and the grounds," Mike Mouron said. "It's our responsibility to continue the momentum. You either move forward or you're moving backward."
For Tuscaloosa native Karen Brooks, philanthropic giving is how she has seen the University grow.
"I cannot express the impact that gifts have on your children and grandchildren," said Brooks, a UA alumna and Board of Trustees member. "It's a source of pride that you can't put into words. And by being involved and giving back ourselves, we're not only helping the University and the state; we're also teaching our grandchildren about giving back. It's a legacy that we're so proud of."
As UA looks to prepare the next generation of leaders and innovators through The Rising Tide, one message remains constant.
"Every gift matters," said Capital Campaign Director Allison Flemming Leitner. "Together we will elevate the University to its greatest heights in all areas — from the groundbreaking research our faculty produce to the once-in-a-lifetime opportunities we provide for our students. An investment in The University of Alabama is an investment in the state and a better world for everyone."
For more information on The Rising Tide or ways to give to the campaign, visit risingtide.ua.edu.
Source
Allison Flemming Leitner, UA Division of Advancement, aleitner@ua.edu
Contact
Bryant Welbourne, UA Strategic Communications, bryant.welbourne@ua.edu, 205-348-8325
The University of Alabama, part of The University of Alabama System, is the state's flagship university. UA shapes a better world through its teaching, research and service. With a global reputation for excellence, UA provides an inclusive, forward-thinking environment and nearly 200 degree programs on a beautiful, student-centered campus. A leader in cutting-edge research, UA advances discovery, creative inquiry and knowledge through more than 30 research centers. As the state's largest higher education institution, UA drives economic growth in Alabama and beyond.