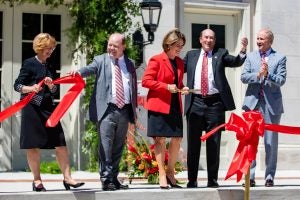 TUSCALOOSA, Ala. — The University of Alabama's Culverhouse College of Business officially opened the doors to its latest building during a ribbon cutting ceremony Sept. 9.
Named in recognition of a $15 million gift from alumni Marillyn and James Hewson, the $60 million Hewson Hall is a light-filled, dynamic 108,000 square-foot structure designed to connect Culverhouse faculty, staff and students through 31 collaboration rooms, 22 high-tech classrooms, three conference rooms, an executive boardroom and a multitude of meeting and flex spaces.
The building also features the Alabama Business Hall of Fame, a Hall of Honor on the ground floor that highlights stories of excellence from across the college, and a unique space for first-generation students to gather and connect.
Anchoring the western edge of the UA campus, the building sits on Stadium Drive across from Culverhouse's Bidgood Hall, Mary Hewell Alston Hall and Angelo Bruno Business Library.
The ribbon-cutting ceremony included UA leadership, alumni, staff, faculty, students as well as community and corporate partners.
"Hewson Hall is representative of the transformative educational opportunities available at The University of Alabama and predicated in part on providing the students room and resources they need to collaborate and learn," said UA President Stuart R. Bell. "I am grateful to the Hewson family for their vision and ongoing support and to our network of alumni and friends who have helped bring this project into reality."
At the unveiling of the building design and name in September 2018, Marillyn Hewson, now the former chairman, president and chief executive officer of aerospace and defense giant Lockheed Martin Corporation, said her and her family's support of UA and Culverhouse was in service of giving back.
Three years later, she and James Hewson echoed that sentiment.
"Our vision for this building is to create an environment that will enable success for generations of students and faculty. We hope it will help students to hone the skills they will need to compete for rewarding and fulfilling jobs and seize the exciting opportunities that the world of business offers," Marillyn Hewson said.
James Hewson added, "When Marillyn and I were attending college here years ago, we never considered that we'd one day be in a position to give back to Alabama in this way. It is a privilege to be able to give back in a way that will empower others to succeed."
Dr. Kay Palan, Culverhouse dean, focused on the genesis of Hewson Hall and the possibilities it offers in remarks at the ribbon cutting.
"When I arrived on campus in 2016, I saw that there was a tremendous opportunity to strengthen the college through the completion of a building that would accommodate projected growth," Palan said. "It took many conversations about how our vision for the future of the college could be actualized through brick-and-mortar and untold hours of work by so many people. And here we are –– this moment is worth celebrating."
Hewson Hall was made possible not just through the principal gift from the Hewson family, but a raft of contributions from alumni, faculty, staff and friends of the college. Those gifts are recognized in several distinct named spaces that include the C.T. and Kelley Fitzpatrick Auditorium on the ground floor, Cooper Café and Terrace, and the Dr. J. Barry Mason Classroom, named in honor of the college's seventh dean. Many of those gifts were inspired by the Hewson Hall building committee that was co-chaired by Marillyn Hewson and C.T. Fitzpatrick, the chief executive officer and chief investment officer of Vulcan Value Partners LLC in Birmingham.
The Culverhouse College of Business was established in 1918 by its first dean, Lee Bidgood. With about 9,600 undergraduate and graduate students today, it is among the largest business schools in the country and its academic programs are ranked among the best by publications like U.S. News & World Report. The College is also home to a number of distinct outreach, research and experiential learning centers that include the Institute of Data and Analytics, the Alabama Center for Real Estate and the Fitzpatrick Center for Value Investing.